27 Aug 2020
Pure Presents... Joko Edu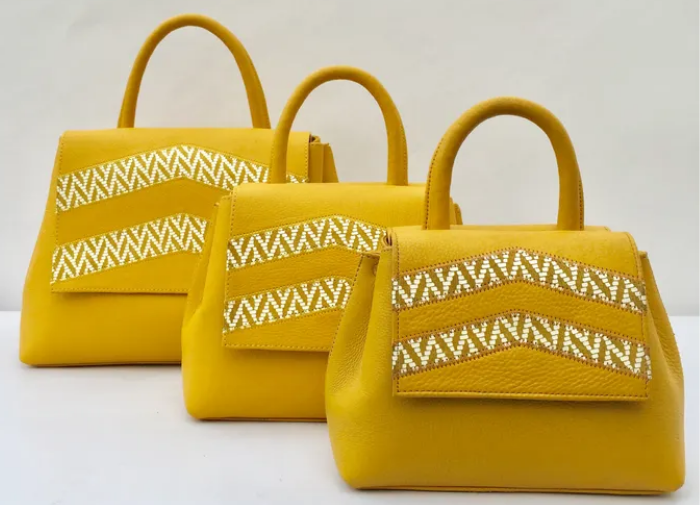 Joko Edu will be joining the line up for Fashion Together. Find out more about this exciting brand.
Tell us a bit more about your brand
Joko Edu is an accessories brand that designs functional and thoughtful handbags and notebooks using local African craftsmanship.
I started this brand four years ago because I was looking for an everyday, well-made bag that was locally produced. Unfortunately, I did not find a product that ticked all my boxes. This encouraged me to design a bag suited to my needs, something that I had been doing since I was a kid, and produce it. With time, I was making more pieces for other women.
Although the brand has my name, its' qualities are from my grandmother, Jokotola Edu, who I was named after. She had breast cancer and passed away in 1977 when she was only 46. She did not have the opportunity to meet any of her 10 grandchildren so we learnt about her through stories and photos. My grandmother was fashionable and wore high-quality, functional pieces which were necessary in her career as a radiologist.
I wanted similar qualities in our brand, products created with love and care that can be passed to future generations. Today, all of her 7 grand-daughters can still wear her pieces and I have done so myself a few times, including on my wedding day.
In addition to the qualities above, we are an innovative brand, constantly looking for new ways to refresh the old or create something different altogether.
We have 3 handbag styles, classic and personalised notebooks all made by local artisans using a blend of traditional and modern techniques. This has helped us preserve our culture whilst more importantly, helped the artisans to provide better opportunities for themselves and their families.
If you could describe your brand's "look" in 3 words, what would they be?
Functional, colourful and innovative
What are you looking forward to about Fashion Together?
We are excited to showcase our brand and connect with buyers and other designers from different parts of the world. We always wanted to take our products to a global stage and are glad that we can do so through a trusted platform like Pure London.
What lessons have you learned from the lockdown?
Firstly, we learnt how to pivot. As fashion was pushed to the back burner especially during the lockdown, we had to focus more on our notebooks. We noticed that people wanted to build new habits including writing but were unsure of where to start. This led us to design themed notebooks, with our first one with writing prompts launching in September.
Secondly, COVID taught us that it is increasingly important to create fewer but higher quality products that last a very long time. Sometimes, it can seem easy to fall into the trap of cheaper fashion that will bring in higher financial gains. However, there is really no need to constantly update one's wardrobe with cheap products that have a short life span. It just encourages bad consumer habits and damages the environment.
Do you have any words of positivity to share with the Pure London audience?
For aspiring designers: Have fun, network and enjoy the shows. I first attended Pure in 2014 and dreamed of one day exhibiting my products at their show. Although that dream seemed far away at the time, it is now coming to pass. Also, do not be overwhelmed by the number of designers you see. There is something special and unique about your product and there is space in the market for you.
For buyers: Please give those of us that are not from the traditional regions you shop from an opportunity to be sold at your shops. Our styles and production techniques might be different from what you are used to but there is always fun in diversity.
Discover Joko Edu and more exciting brands at Fashion Together!