28 Nov 2019
Pure Presents... Salvo Amor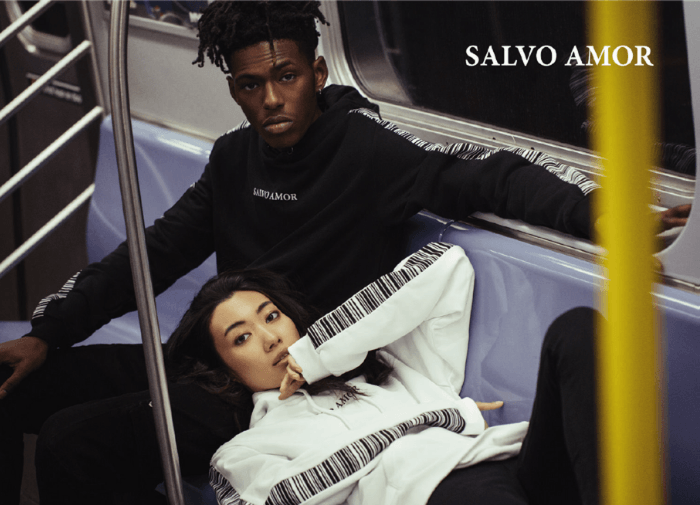 We've asked our Pure London exhibitors five simple questions to get to know them better ahead of the AW20/21 show. Meet Aaron from Salvo Amor...
Who or what inspires your designs?
A focal point of our designs in the first capsule is the Binary/Barcode detailing. The detailing also represents the concept of frequency and connectivity (through LOVE) which is the DNA of the brand. Both of our investors, Abhay and Joson (real name Gursehaj which means the one who is with) come from a place in India called Chandigarh. Joson studied in the UK and through him I met Abhay. Nearly all of the streets and roads in Chandigarh (their city) are surrounded by the barcode/binary detailing. Chandigarh is known as the City Of Peace and was designed by French architects in the 1950's. The brand is about LOVE and it is only in my heart that I find PEACE. Everything is interconnected, we are all one.
I often practice with Salvador Dali's paranoiac critical method, a lot of my work and the journey of Salvo Amor reflects that. I am deeply fascinated by surrealism and the concept of synchronicity - where energy aligns with purpose. It is all about oneness and connectivity. My birthday is 1111, which cannot be by coincidence, I don't believe in such things, I believe in purpose.
James Crick is someone who inspires me as an individual. Francis Crick was also from hometown Northampton, he was one of the founders of DNA, which 'unlocked the future of genetics and alphabet of life.' I believe Salvo Amor will unlock the future of Fashion.
What does it mean to be sustainable?
To me, being sustainable means being able to keep LOVING regardless of how broken we are or our environment is, without LOVE there is no meaning in LIFE, in fact there is no LIFE at all whichever way we look at it. In terms of creativity, the frequency of LOVE is the greatest force for anything. As expressed before I tap into these crazy feelings and emotions of love to manifest, science says that the electromagnetic frequency of the heart is greater than the brain. It is no different to alchemy. In spirituality, they say Love and Light operates on the highest frequency too. Also the frequency of the human heart rhythm is exactly the same as the primary resonant frequency of the Earth's Field-Line which is 0.1hz. Many of the events in my story exceed logic but even science indicates that there is truth to what Salvo Amor is doing.
What does your company do to be sustainable?
We spread LOVE, often we give money to homeless people on the streets, we buy people food, we do work with blind children (they are featuring in our instillation), we work with artists as well in particular DAVID from London and KATI from Paris, it is crazy because their artwork is connected and they have never met. The stories behind how I met them is even crazier. This week I have a meeting with Women's AID UK (so that we can start corporate partnership and collaboration with them) and also Northampton Hope Centre (A progressive anti-poverty charity). We also give clothes to homeless people or refugees/asylum seekers in the streets of London.
We don't make any profit at the moment but it is part of our mission statement to help each month so that is what we do. I was very adamant on this when pitching to our investors because I believe nobody ever became poor by giving. When we begin making profits, we aim to give 20-40% back to society. I have always been more interested in making a difference than making a living and I am lucky that my investors share the vision.
I think there is nothing more creative than a woman and closely second the human heart. They say home is where the heart is.
I am from Northampton and currently we have 60 homeless people here per night, eventually I am going to make that 0.
How would you describe London?
I would describe London as the World Stage, the stage for all things Noble, the place where people from all over the world come to experience Magic. It is the benchmark for all things great about the world.
Where in the world is your favourite fashion destination?
New York City as it reflects Salvo Amor very well, the city that never sleeps. As an individual I suffer with terrible insomnia, often awake for up to 30 hours and I've tried to reflect this in the clothes. If you look at the first 2 capsules, they depict a 24 hour wardrobe. I did my first Campaign there, it is just so diverse and you are engulfed in a world of creative inspiration from all different cultures and ages, 24 hours a day, whether that be in the stores or in the streets.
This season, Pure London is celebrating creativity without boundaries. What does that mean to you?
Connectivity, the power of connectivity (through LOVE) is unparalleled. The ultimate byproduct of Synchronicity, where 'energy aligns with purpose.' If you think about it, for something to connect it means for something to join or link, without boundaries. Love knows no limits.
Meet Aaron and discover the Salvo Amor story at Pure London AW20/21. Register to visit today.
---
About Pure London and Pure Origin
We are the UK's number one leading fashion trade event that brings together the entire fashion supply chain, right the way from fibre through to finished ready to wear garments.
No other UK show offers sourcing and brands together, making Pure London and Pure Origin the only event to cater to all your fashion buying needs under one central London roof.
Location & Opening times:
Olympia London,
Hammersmith Road,
Kensington,
London W14 8UX
-
Sunday 9th February 2020, 09.30 - 18.00
Monday 10th February 2020, 09.30 - 18.00
Tuesday 11th February 2020, 09.30 - 16.00