22 Dec 2017
Riding the Pop-Up Wave by Fashion Network
A traffic-free, innovative shopping destination featuring geometrical pop-up pods in turquoise and magenta emerged in Central London this year, allowing small and independent brands to trade alongside some of the world's most popular retailers just off Oxford Street.
The project, launched by the New West End Company, underlines a trend that has been growing fast in recent years. It's the rise of pop-up retail, with stores and branded spaces appearing in high footfall areas or within popular retailers in a blink-and-you'll-miss-it dance of openings and closures.
Next announced recently plans to open clothing concessions at Tesco stores, and Amazon has launched a Treasure Truck visiting London and Manchester with selected special deals. Meanwhile, clothing brand Boden opened concessions in five John Lewis stores, and upmarket handbag label Radley teamed up with retail chain Macy's to launch in US earlier this year. Pop-ups are now coming in different formats, and both established and emerging fashion brands are investing in temporary retail for permanent results.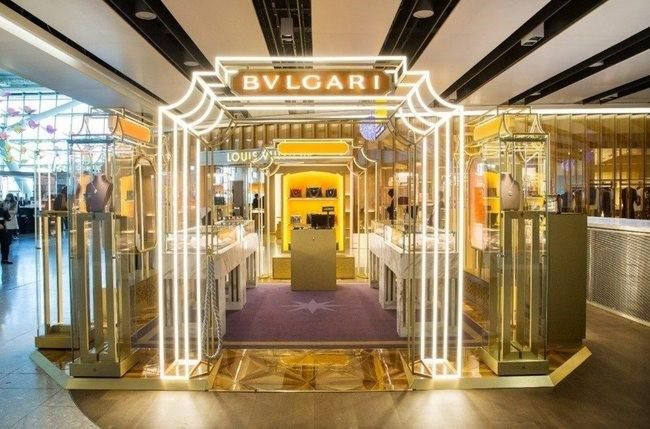 Bulgari has recently opened a pop-up at Heathrow Terminal 5 – Photo: Bulgari
Indeed, fashion news site FashionNetwork.com has reported more than 500 global stories about pop-ups in the last year and the trend seems to be here to stay. Real estate services provider Savills included shorter retail leases in its 2018 industry predictions.
"Retail today is all about being in the right place at the right time — and importantly, moving on before the crowd gets bored. Pop-ups give brands this flexibility," says Elizabeth Layne, CMO of Appear Here, a marketplace connecting short-term retail space with brands.
And flexibility is important in a time when even established fashion brands struggle to remain competitive amid rising business rates, challenging market conditions and a consumer shift towards online.
Coming at a lower price than permanent stores, pop-ups can be a good idea for brands looking to test a new market, launch a new product or get consumer feedback. If they are in the right location, they can piggyback on the credibility of established retailers, and their temporary nature adds a sense of urgency and excitement to the experience.
"We have thousands of independent fashion brands using pop-ups and concessions as a way to drive brand awareness, boost sales and test the market," says Elizabeth Layne from Appear Here.
"A lot of discretionary spending is based on the excitement of a particular shopping experience, be it engagement, memorable experiences or emotional connection. Experiences are the new luxury, and by giving people the opportunity to come into a store, touch the products and experience the brand in a wider context, brands can build much stronger connections with their customers."
Additionally, brands can make the most of their pop-ups by hosting in-store events, workshops and promotional evenings; collect consumer data by running a competition; and make sure social media is integrated by giving the shopper something highly visual to share with friends.
But getting it right can be difficult. And pop-ups can be expensive, especially if they are in a good location. According to Appear Here, many brands don't expect to make a profit from their pop-up and instead look at online sales, social engagement and PR exposure as a way to measure ROI.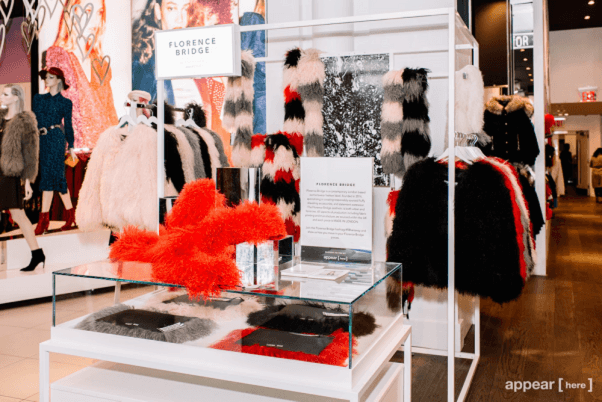 London-based fashion designer Florence Bridge had her designs showcased in the windows of Topshop Oxford Circus – Photo: Appear Here
While many have failed, many have succeeded too, and there are many success stories in the world of pop-ups. Last year, a bespoke jewellery brand called Littlesmith worked with Appear Here to open a market stall in Topshop, and went from doing sales of £1,500 a week to £20,000. And London-based fashion designer Florence Bridge had her designs showcased in the windows of Topshop Oxford Circus due thanks to her successful concession space, which then paved the way for her to open her first US location in Topshop's NYC Soho flagship.
"Just get started," says Layne. "It doesn't matter if it's just a one day market stall, the learnings will always help you move faster and improve. You also need to be creative — don't worry about not having team of pros to help with the fit out or design, there are so many DIY hacks and tips online. Invest some time on Pinterest or take a look at some of Appear Here's community tips on how to style your shop."
"Look beyond the four walls, and think about how you can make the most of your surrounding environment — whether that's through partnering with like-minded brands or advertising in local coffee shops. And finally, make sure you capture every moment so you can create content to share online after your store disappears."
Companies like Appear Here offer brands the opportunity to book retail space by day, week or month, taking high-stake risks off the table for independent brands. Whether it is for driving sales, launching new products or getting in front of new demographic, pop-ups and concessions are being preferred by a rising number of brands. That is why pop-ups are becoming a core retail strategy for many brands, and will continue to spice up the high street with their continuous dance.
Barbara Santamaria
For more stories about the latest trends in the fashion industry, please visit FashionNetwork.com.