04 Feb 2020
Spotlight... Lacoste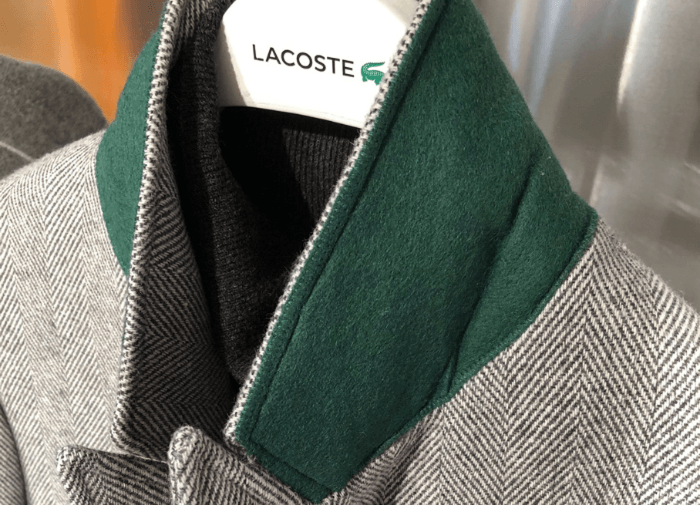 There's just a few more days to wait until we're back in our home Olympia London for another exciting season. With so many must-see brands on the AW20/21 line-up, it's impossible to get to know them all, but I couldn't pass up on the opportunity to meet the world-renowned brand, Lacoste, as they prepare to join us at Pure London.
Tell me a bit more about the Lacoste brand history.
The brand was founded in 1933, by world class French Tennis champion Rene Lacoste.
Before Lacoste, tennis meant long-sleeve shirts, pleated trousers and belted waists. René Lacoste put comfort front and centre; early on he understood the need for clothing adapted to the task. Defying conventions, he shortened the sleeves of a typical tennis shirt to create the first comfortable polo
Where does the iconic crocodile logo come from?
Boston, 1923, young tennis prodigy René Lacoste is 19 and likes a challenge. His team captain promises him the crocodile leather suitcase the player admired in a store window if he wins his upcoming match. René doesn't win but he had the determination of the crocodile on court, which is why an American journalist gave him this nickname. The crocodile took shape in 1927 under the pen of designer Robert George. An early fan of customization, René Lacoste immediately has it embroidered on his blazers. A few years later, the polo sees the light of day. The crocodile over the heart makes Lacoste the first brand to display a visible logo on an article of clothing.
How would you describe the aesthetic of this season's collection?
This collection successfully represents a clean and elegant silhouette as well as the logo driven and 90s sportswear inspired trends within the market currently.
René Lacoste's easy tailoring is reinvented in touchable textures and plush fabrics that are made to be layered. While complementary shades of clay, camel and beige – contrasted with pea green or ochre – elevate tonal dressing to an art form. The final touch? Enveloping outerwear to create a warm cocoon of assured style.
What does Lacoste do to promote a more sustainable future for fashion?
SS20 marked a significant move into using sustainable and organic materials fabrics, alongside the brands continued partnership with IUCN highlighting the conversation of endangered species with the Save our Species collaboration.
Do you have a favourite piece in the collection this season?
This season's unisex double breasted, herringbone coat is a standout piece in the collection -with the signature 'Lacoste Green' contrast highlight details this style is both in line with AW trends, but of course a key staple of anyone's wardrobe.
Where in the world is your favourite fashion destination, and why?
Paris of course! It's the home of Lacoste, where our design team and the global headquarters are based and where we show our runway collections during Fashion Week. One of the fashion capitals in the world and a place that has strong roots to the brand and Rene Lacoste, Paris would definitely be the fashion destination of choice.
Why are you exhibiting at Pure London this season?
With a brand legacy stretching over 85 years, the focus has primarily been on Menswear over the years, therefore it is important to showcase what we can do with our Women's collections. As Louise Trotter has joined us as Creative Director, the AW20 Pure show is a great opportunity to do this.
Discover the latest Lacoste collection at Pure London this season. Join us from 9th - 11th February 2020 for the AW20/21 edition in the iconic Olympia London.
This post was created by Pure London editor Emma Wilder

---
About Pure London and Pure Origin
We are the UK's number one leading fashion trade event that brings together the entire fashion supply chain, right the way from fibre through to finished ready to wear garments.
No other UK show offers sourcing and brands together, making Pure London and Pure Origin the only event to cater to all your fashion buying needs under one central London roof.
Location & Opening times:
Olympia London,
Hammersmith Road,
Kensington,
London W14 8UX
-
Sunday 9th February 2020, 09.30 - 18.00
Monday 10th February 2020, 09.30 - 18.00
Tuesday 11th February 2020, 09.30 - 16.00