13 Dec 2017
Spring/Summer 2018 Accessories by Collezioni
Roberta Bindi, editor-in-charge of Collezioni Accessori and Collezioni Bambini and co-editor of New (s)tyle Collezioni Donna/Accessori/Trends, leads us into the labyrinthine world of accessories for the coming warmer  season by answering some questions by Peppe Orrù, London Contributing Editor, Collezioni.
How would you summarise the Spring/Summer 2018 season when it comes to accessories?
The macro trend is as an exhilarating and exuberant enjoyment of life, a lust for life that expresses itself through different aspects and facets including Colour, Active, Techno as well as Graphics and Metals. To this 'Joie de Vivre' are also connected a New Romanticism and a New Retro Glamour, the latter expressed with the abundant use of lurex and glitter. 
All that is connected to being kind, or should we say kinder?, to our planet and especially to the increasingly endangered oceans and seas is also very important. Hence the focus on Ecology, Eco-Sustainability, Recycling.
Last but certainly not least, Practicality and Functionality are indeed extremely important elements for the accessories for the Spring/Summer 2018 season as seen in all the most important international fashion weeks.
Let's have a look in detail at what was shown on the main international catwalks. Should we start with London Fashion Week?
London is and always will be the at the vanguard. Although the United Kingdom is currently being put to the test politically and economically, there is certainly no lack of that self control that has always distinguished it. Therefore its creative soul, even on high alert, is most definitely on a high.
The colour choices support and project positivity, while shapes and volumes, indeed more sober than in the previous seasons, suggest and identify a need for slowing down. The 1980's revival rages on in the world of accessories: they become more extreme in terms of details but more reassuring in terms of shapes as they become more basic, more essential, more streamlined. Lower heels for the footwear, in a quest for a new stability. While the other accessories, like bijoux, jewels, sunglasses, hats, gloves and all the rest, acquire stronger personalities and yet remain preciously superfluous.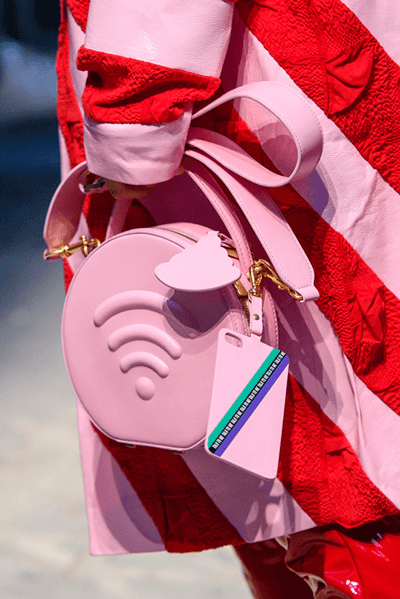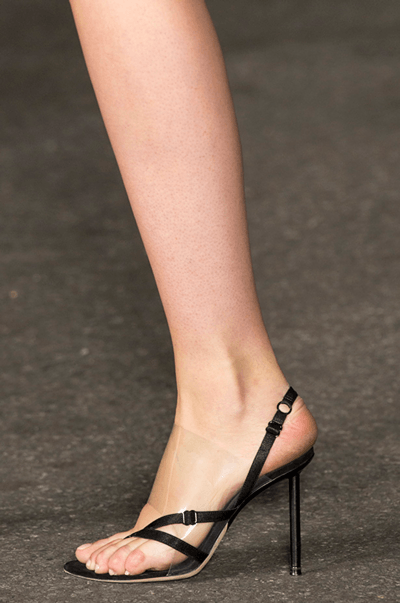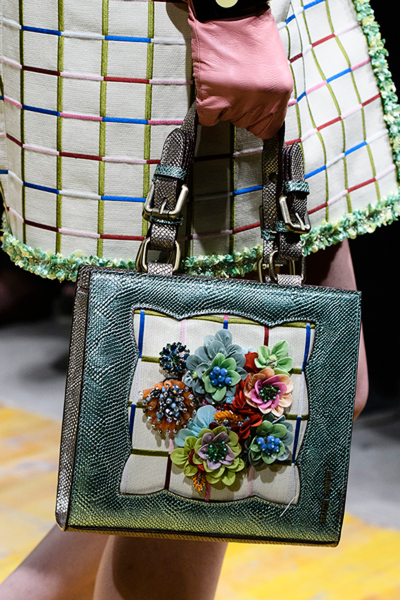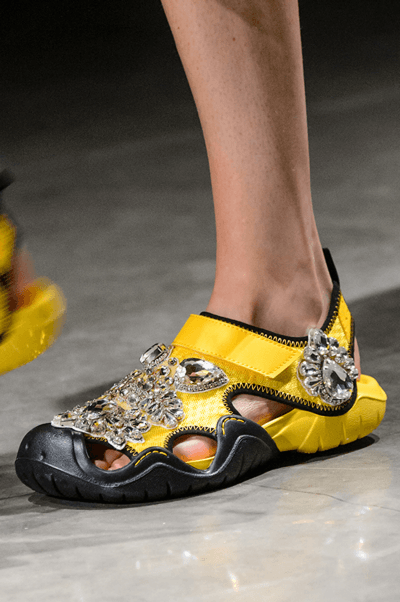 What about Milan Fashion Week?
Being Italian and being based in Italy, I might be guilty of parochialism because I am convinced that Milan is, without the shadow of a doubt, truly important for the Spring/Summer 2018 season. Because of a rich and harmonious balance among all the collections shown on the catwalks, at presentations and in the showrooms and trade shows. Extremely creative but always absolutely wearable. The unifying leitmotiv is red, a colour that appears in almost all the collections, at times on its own, at time combined with other colours, either perfectly matched or in games of sharp contrasts. There are two main trends when it comes to accessories. A retro romantic mood, with a touch of old lace and old memories updated thanks to metallic, flora and ethnic details. And a more avant-garde feeling that proceeds in search of the future, looking for connections with new experiences, through the use of original technical materials and shapes.
What about Paris Fashion Week?
Sober and composed, Paris seems in some way to have suffered from the uncertainty we are experiencing worldwide, mirroring it with collections that are to be considered as a social shield to such high levels of global instability through outfits and accessories of extreme "concreteness". Hence no flights of fancy, no overstatements, no exaggerated hyperboles. Measure and moderation take hold of the catwalks: the collections are therefore timeless, elegantly measured, well-finished, simply sober, practical and traditional, almost conservative. There are only slight references to the main trends of the moment, such as the use of bright colours, the reference to nature and to sportswear. Most Paris Fashion Week collections take us back to the reality of everyday life because at this moment Paris needs fashion to support stability.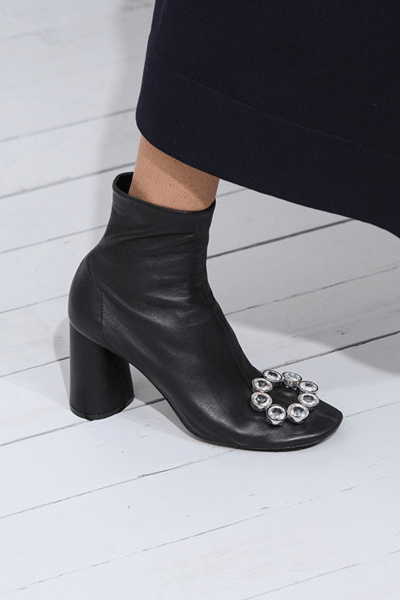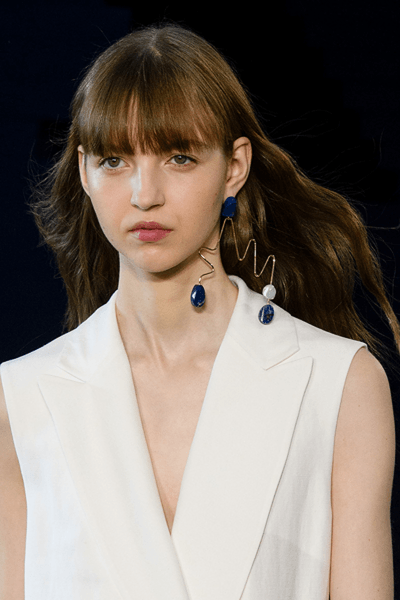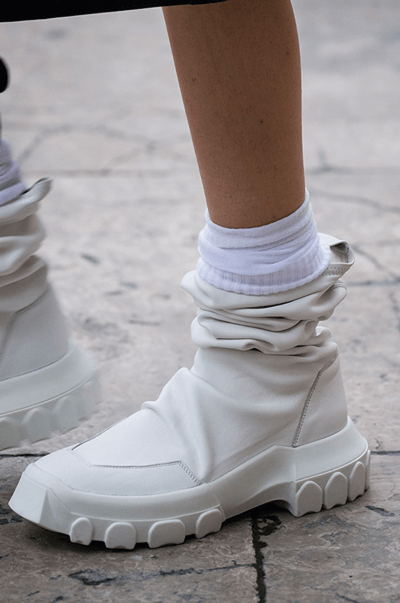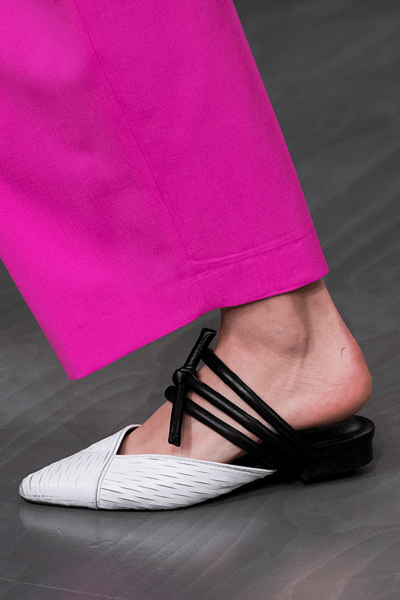 What about New York Fashion Week?
Autonomous and independent, American fashion continuous to meet the needs of the determined and fascinating, dynamic and enterprising All American Woman. Hence, the Spring/Summer 2018 collections are filled with practical and functional accessories, made of previously refined or absolutely technical materials in simple functional shapes. Nothing really new on the American front but a lot of practical wardrobe solutions.
What is the importance of accessories in today's fashion system?
Accessories have a vital importance. Because they provide, more and more, that extremely personal authentic touch of style for any type of outfit. Because they convey messages loudly and clearly. Because they symbolise the fact that the world is nowadays a true melting pot of cultures and influences and references.