27 Oct 2020
Sustainability standards and what they mean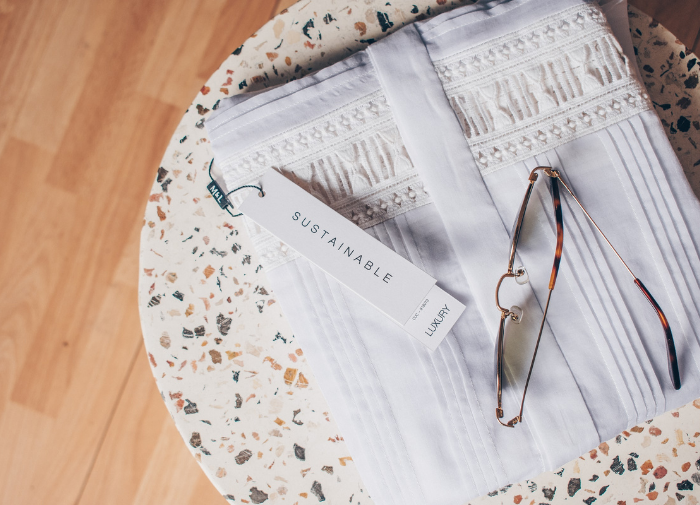 It's no secret that many of today's consumers are looking to shop in a more conscious way. Whether they're looking to buy better, shop slower or lessen their carbon footprint, there are many options out there for customers looking to make their wardrobes greener. But with many options, comes many questions, and for retailers, it's not always an easy process to navigate through the various conscious fashion brands and their certifications. To really nail down the right sustainable stock for your customers, we've put together a guide to some of the most common sustainability standards and certifications that brands can have, and what they actually mean.
Global Organic Textiles Standard (GOTS)
The GOTS is the leading textile processing standard for the global fashion industry. Covering the entire textile supply chain, from farm to factory, GOTS ensures that natural fibres (mostly cotton, but also silks and wools) are fully tracked, traceable, ethical and organic. The GOTS certification covers both social and environmental issues and is
Find out more about GOTS here.
Fairtrade Certified Cotton
Part of the wider Fairtrade initiative, the Fairtrade Cotton Standard applies fair trade principles to cotton farmers working in target regions, such as India and various West African countries such as Mali, Senegal and Cameroon. Fairtrade certified cotton is an ethical accreditation that ensures raw cotton has been grown and sold in accordance with fair trade principles. Fairtrade also works with local farmers to educate and minimise some of the environmental impacts of cotton growing such as water scarcity and pesticide and chemical usage.
Find out more about the Fairtrade Cotton Standard here.
Better Cotton Initiative (BCI)
The BCI is a non-profit member-based organisation made up of some of the globe's biggest cotton consumers in the textile sector and is the most commonly used cotton scheme for brands and suppliers. The BCI was designed to promote and help brands implement more sustainable and socially just core production standards throughout their entire supply chain.
Find out more about the BCI here.
Cotton Made in Africa (CMiA)
Cotton made in Africa is an initiative of the Aid by Trade Foundation and has become one of the world's leading standards for sustainably produced cotton. The CMiA goal is to help smallholders in Africa to improve their living and working conditions and to promote the protection of the environment via self-help through trade instead of donations.
Find out more about CMiA here.
Global Recycle Standard
The Global Recycled Standard is an international, voluntary standard that sets requirements for third-party certification of recycled input and chain of custody. The goal of the standard is to increase the use of recycled materials within production. The GRS is designed to reduce the harmful impacts of production on both people and planet, provide assurance that products are processed in a sustainable and drive higher percentages of recycled content in products.
Find out more about the Global Recycling Standard here.
Organic Content Standard
The Organic Content Standard verifies that a final product contains the accurate amount of a given organically grown material. It requires that each organisation along the supply chain takes sufficient steps to ensure that the integrity and identity of the input material is preserved. Unlike some of the other standards we've mentioned, the Organic Content Standard does not cover the certification of the raw material (which is separately verified) and does not cover processing inputs (e.g. chemicals), environmental management, health, safety or labour rights issues.
Find out more about the Organic Content Standard here.
Responsible Wool Standard
The Responsible Wool Standard is a voluntary standard that addresses the welfare of sheep and the land they graze on. The goals of the Responsible Wool Standard are to provide the industry with a tool to recognize the best practices of farmers; ensuring that wool comes from farms that have a progressive approach to managing their land, practice holistic respect for animal welfare of the sheep and respect the Five Freedoms of animal welfare: freedom from hunger and thirst; freedom from discomfort; freedom from pain injury or disease; freedom to express normal behaviour; and freedom from fear and distress.
Find out more about the Responsible Wool Standard here.
Oeko-Tex 100
The International Oeko-Tex Association has been testing for harmful substances since 1992. The Oeko-Tex Standard 100 is a global uniform testing and certification system for textile raw materials, intermediate and end products at all stages of production that gives the customer the confidence that there is no harmful chemical residue in the end garment.
Find out more about the Oeko-Tex 100 here.
Bluesign
The independent bluesign® programme focuses on legal compliance in relation to environmental health and safety. It combines aspects of consumer safety, water and air emissions and occupational health, with a particular focus on the reduction of harmful substance usage at the early stages of production.
Find out more about bluesign® here.
SA8000 certified
The SA8000 is a voluntary social certification grounded on the principles of core ILO and UN Conventions, and the ISO management system. SA8000 is applicable to virtually all industrial and provides a holistic framework allowing organisations to demonstrate their dedication to the fair treatment of workers. It's creator, the Social Accountability International (SAI) is a global, multi-stakeholder, standards setting organization whose mission is to advance the human rights of workers around the world.
Find out more about the SA8000 Standard here.
Cradle to Cradle Certified
Cradle to Cradle Certified™ is a globally recognised measure of safer, more sustainable products made for the circular economy. To receive certification, products are assessed for environmental and social performance across five critical sustainability categories: material health, material reuse, renewable energy and carbon management, water stewardship, and social fairness. A product is assigned an achievement level (Basic, Bronze, Silver, Gold, Platinum) for each category. A product's lowest category achievement also represents its overall certification level. The standard encourages continuous improvement over time by awarding certification on the basis of ascending levels of achievement and requiring certification renewal every two years.
Find out more about Cradle to Cradle Certified here.
---
If you liked this article, you might also enjoy: