04 Feb 2019
Sustainable fashion brands at Pure London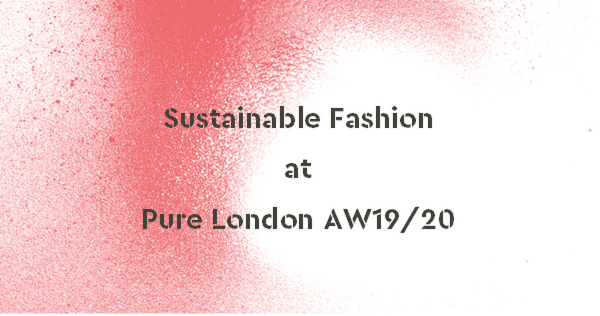 It's no secret; sustainability's kind of a big deal in fashion right now. As big brands, designers and retailers step up to the eco-friendly plate, we thought we'd explore the topic a bit more and take a look at some of the exhibitors going green at this season's festival of fashion.
What is sustainable fashion?
Sustainable fashion literally does what it says on the tin. Right now, fashion industry players around the globe are looking for new ways to develop sustainable garments that look and feel good. Everything from eco-friendly manufacturing processes, recycled and recyclable materials and new and improved transport methods play a part in upping the sustainability status of fashion brands and it's these changes that make a difference.
Sustainability's not just about the environment, though. As online-only businesses cut prices to the bare minimum, there's something to be said for the socio-economic impact of the industry as well. Not only do rock-bottom prices justify buyers in their decision to discard garments almost immediately, but the ever-present question of ethical manufacturing processes lingers.
According to Green Strategy, a green fashion consultancy based in Stockholm, sustainable fashion can fall under any of seven categories:
1. On-demand and custom-made fashion designed and manufactured exclusively at the request of a buyer.
2. Green and clean fashion which adopts sustainable practices at every stage of the product lifecycle, from concept to creation.
3. High quality, timeless design that retains it integrity and never goes out of style.
4. Fair and ethical pieces that follow traditional methods, favour artisanal pieces and acknowledge animal rights.
5. Upcycled fashion which makes use of old fabrics and garments to create something new, meaning nothing goes to landfill.
6. Renting and clothes loan apps and sites which allow users to choose a garment for an occasion and keep it for a set time before sending it back to the rental company.
7. Second-hand and vintage clothing, which, like upcycling, often involve using old pieces in new ways to recreate trends and keep fabrics away from landfill.
Sustainable fashion in the UK
Following in the footsteps of vegan diets and a crackdown on single-use plastics, sustainable fashion is starting to capture the awareness of the British public – and brands are listening. With under-24s leading the way in the hunt for fashion brands who are actively trying to reduce their impact upon both the environment and society, brands like Primark and ASOS, who have large audiences of younger consumers, have recently committed to cutting their carbon footprint, with many other UK-based retailers joining their ranks.
Sustainable fashion brands at Pure London AW 19
There are many sustainable brands exhibiting at Pure this season – here's an introduction to just a few of them:
For eco-friendly materials, look no further than Clara Kaesdorf, KiRiVOO, Lanhtropy, Les ARTisanes, Pasithea and many more.
If it's handmade you're looking for, Simone Bruns – Cashmere Couture, Sugarhill Brighton and MagmaLAB are just a few of our exhibitors taking a more traditional approach to manufacture and design.
Our ethical exhibitors also come in all shapes and sizes this season, with Good People exploring the possibility of veganism in fashion and Green Bomb and Komodo championing fair trade in their manufacturing operations and supply chains.
How we're doing our bit
Our Power of One campaign is designed to empower us all to make small changes that have big consequences for the planet. This season, Pure London and Pure Origin are pledging to reduce the amount of single-use plastics our shows consume.
We're working with our hosts, Olympia London, to create dedicated plastic recycling points across the show floor, provide water refilling stations so we don't rely on plastic bottles and reduce the use of plastic cutlery and catering items in our cafes and restaurants. Whilst we know that this won't eradicate these harmful materials completely, it's a step in the right direction.
There's something for everyone at Pure London's AW 19/20 event. Register for your free ticket today to discover the variety of brands exhibiting and join us on our Power of One pledge mission on 10th – 12th February 2019.
Source: Article "Seven forms of sustainable fashion" published by Green Strategy
Source: Article "Is fast fashion giving way to the sustainable wardrobe?" published by Sarah Butler for The Guardian