18 Sep 2019
Talking menswear with Karlmond Tang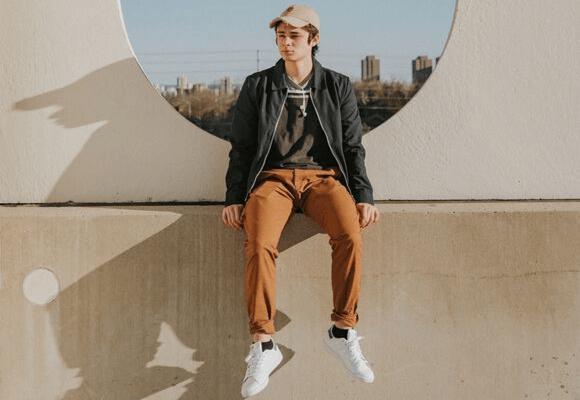 As menswear continues its ascent into the fashion spotlight so long occupied by womenswear alone, it's only natural that the conversation around the sector is growing. Pure London's SS20 edition brought the conversation to the Future Stage, as Style Director Karlmond Tang delivered his talk on style and storytelling in the menswear sector. To get some extra insight into this ever-growing sector, I sat down with Karlmond to find out more…
Can you tell me a bit more about your background in fashion? Why do you love it so much?
So, I studied Chinese and Economics at uni, so I actually started my career in finance. What happened that got me into fashion was that I was in Shanghai doing an internship with China Britain Business Counsel which is part of UKTI and I met a photographer there who told me I should work in the fashion industry; I just said OK, and the next day he introduced me to a stylist and that's where it all started.
In terms of why I love fashion I would say it's not so much a love of fashion as a love of clothes. I love clothes. I am, sadly, a shopaholic. I cannot stop buying clothes. My point is that I love clothing and that is sort of how my whole career has come together. I think it's come from my mum really; she used to dress me really well as a kid. That heavily influenced me growing up and I think it made me care about how I dressed as well. So, I guess fashion comes into it in that I can connect my love of clothes into a career that I'm passionate about.
So, you talked a lot about storytelling in your session and how you bring collections to life. Where does your inspiration come from for different shoots?
Sometimes there is an idea that I've just always wanted to do, and then the collection presents itself and I can say "I know exactly what to do with this". But that's not always the case. I always start any collaboration off by meeting the designer, and I always ask them a sort of 20 questions about what they're trying to achieve. After that meeting can take all that information and come back with an analysis of the vision for the project.
Some designers are very conceptual, and others know exactly what market they want to reach and will already have a very specific idea in mind. So, with that in mind, it's such a mixture of things, but at the end of the day it's always a conversation, it has to be collaborative and it has to be authentic. The designer needs to be able to talk about a shoot like it's theirs, so they need to understand exactly what it's all about. That transparency and cohesion is a really important part of every project.
In your talk you also touched a bit on diversity and representation in men's fashion but why do you think that conversation is so much bigger in the women's fashion sphere?
You know, I feel like a lot of men don't talk so much about diversity, because they don't seem to be "offended" by a lack of representation or difference, if that makes sense? But that doesn't mean we shouldn't talk about it. For that reason, it is a very different conversation to that of the womenswear industry and I think it needs to be a lot more subtle as well because men are more subtly influenced, it's more suggestive. I think women do take the more "stand out" tone with it, because it resonates with so many more people and people are willing to speak about it. The majority of men are not willing to speak about these same issues yet. It's about doing it gradually, making sure it's understood and is passed down through generations, because that's how masculinity is passed down. That's why I think the diversity conversation isn't so big in menswear yet, but it doesn't mean we shouldn't do it.
Onto the menswear trends, is there anything that's caught your eye for the upcoming seasons, or anything you're excited about?
It is very gradual, but the construction of men's suits is changing, and I think that's fascinating. The way that Dior have cut some of the suits – Kim Jones is a genius. It's also about the fabrics and the way that it sits on the body; it feels so futuristic, but also so "now". I know that's a suit – it's a top and a trouser – but when I look at it, it's not like any suit I've ever seen, and I want to wear it! But it gives me a reason to go into stores and try on blazers again. It's something that's being done in the high-end at the moment really well, but I want to see that in the mid-market, I want to see it on the high street; tweaks and subtle differences to the familiar menswear classics.
Another big trend is smart mixed with casual, which I think is probably one of the strongest trends at the moment. People are redefining what the work uniform looks like; you can get away with wearing shorts or sportswear to work, as long as it feels like you care about what you're wearing. Sportswear has obviously become a massive thing, and now the question is "how do we make sportswear smart".
I've also been speaking to a lot of designers who think that denim is coming back. But it's not denim in the same format. People are asking "how can I wear this with everything else that I wear?" and they don't want to look like they've just thrown on a pair of jeans.
So, if anything, I think that people are just generally getting smarter and savvier – it's old favourites with a new twist.
Hear from experts like Karlmond and discover the latest menswear trends and collections at Pure London this February. Join us for the AW20/21 edition on 9th – 11th February at Olympia London.
APPLY FOR A STAND REGISTER TODAY
This post was created by Pure London editor Emma Wilder
---
About Pure London and Pure Origin
We are the UK's number one leading fashion trade event that brings together the entire fashion supply chain, right the way from fibre through to finished ready to wear garments.
No other UK show offers sourcing and brands together, making Pure London and Pure Origin the only event to cater to all your fashion buying needs under one central London roof.
Location & Opening times:
Olympia London,
Hammersmith Road,
Kensington,
London W14 8UX
-
Sunday 9th February 2020, 09.30 - 18.00
Monday 10th February 2020, 09.30 - 18.00
Tuesday 11th February 2020, 09.30 - 16.00