11 Apr 2018
The art of Visual Merchandising
Visual merchandising can be a tricky challenge even for the most experienced retailer. As a store owner you want to show off all your best pieces; everything from prints and embroideries, to knitwear and silks – but how do you find the right mix?
Earlier this week, I met up with Joseph Larkowsky, a Luxury Fashion Visual Merchandiser to learn more about the do's and don'ts in visual merchandising. Now, just to give you an idea – Joseph's creativity flows beyond shop floors and beautiful windows and into his home. From ornaments in the shape of a beautiful pair of patent Saint Laurent heels, to a Vintage Christian Dior bag that clearly belongs on the wall as much as any other art piece. Hence, when I spoke to him about Visual Merchandising – I did it with confidence.
Joseph starts off by telling me about his current obsession – 1980's Giorgio Armani ads and the styling being key. When it comes to inspiration, he says, "I love visiting concept stores around the world, not just fashion, seeing how they make product work and appeal in different ways, and how I can translate that back to how I work".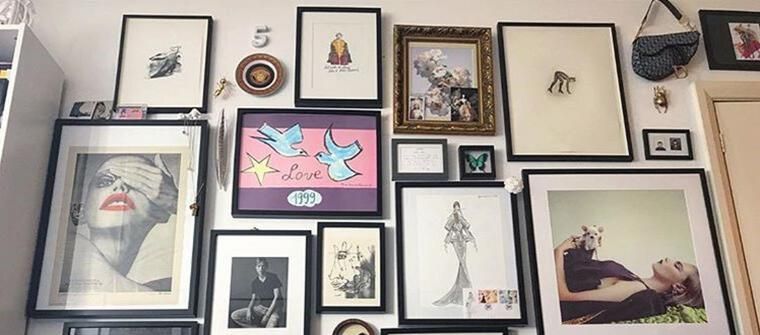 Imagery courtesy of Joseph Larkowsky's Instagram @josayhef
Being very passionate about fashion and show-stopping pieces, he explains that one of the key things to think about is balance, "I try not to think about my personal taste as I have to appeal to the client". Putting the client first, always, he adds, "if there is always a sense of discovery, a new brand, an interesting cut or a stand out piece, clients will instantly be engaged".
When in doubt, and when there's just too much you want to do but not sure how to do it, Joseph's go-to is to think in themes and stories, "If you can make stories, imaginary scenarios, a boat trip, a hike, a nervous teenager going to Prom, if you're able to tell a story or imagine a scenario, the customer can instantly relate".
As style is very personal, the role of a visual merchandiser is to make sure it's relatable but not too familiar as you need to be able to achieve the wow-factor without being intimidating or overwhelming. Most importantly, you need to love what you have because customers can tell genuine passion apart from desperate selling.
Another thing to think about is the fact that the customer wants new things all the time, and as a retailer, buyer or designer, you need to be able to make the old feel new. Joseph says, "I love working with older products and making it new and interesting, via styling, mixing with unexpected brands or re-editing as a new proposition".
With all the rules and don'ts there are, Joseph boils it down to one mistake to keep away from, that's basically fool-proof. "Clutter! Too many prints or themes or stories, when too many amazing things sit under one roof, it's hard to see the perfect white t-shirt you desperately need."
But there's an easy antidote to remember to avoid getting stuck in the clutter, "Make positive decisions and edit down what you don't need. Let the product breathe and treat everything as the best piece".
---
About the Author
Nelly Gergi is the Content Editor for Pure London. Born in Stockholm with roots in Lebanon, she moved to London to study and graduated London College of Fashion with a BA degree in Fashion Journalism.