25 Apr 2022
What is the Metaverse?
More and more we hear about brands entering the metaverse, but most of us are confused of what this actually means, or its potential impact on the future of fashion and the retail industry. We've attended the first Glamhive live event in London, a company connecting stylists directly with consumers, and one of the sessions was on the metaverse.
The discussion, moderated by the founder and CEO of Glamhive, Stephanie Sprangers, included Geraldine Wharry, a renowned fashion futurist and trends forecaster. She was joined by Nora Zukauskaite, global marketing director at Brand Agency London, which owns three beauty brands including Ciate London, which has already entered the Metaverse with amazing results.
So what's the metaverse? Geraldine says "we're still in the baby stages of the metaverse but the idea in the future is that AR (Augmented Reality), VR (Virtual Reality) and 3D gaming experiences will happen together in one place. The metaverse is potentially multiple metaverses, spaces where brands and people connect."
Ciate London was an early adopter of the metaverse through NFTs (non-fungible tokens), which is basically digital art that you can exchange or buy with cryptocurrency online. That's why luxury fashion brands started to seek the future consumer and jumping on the bandwagon.
"This year, we decided to present our collection without any boundaries of space and time in the metaverse. You can decorate your avatar by giving him or her different skins or outfits, including makeup. It becomes a parallel world in the digital space where you have relationships and interactions, not in your form but in the form of your avatar, and therefore you want your avatar to stand out, look cool and be trendy!" adds Nora.
They didn't expect so much demand. They produced one thousand avatar wings and super fake mascara with extra-long eye-lashes, that people could buy or exchange when entering their event in Decentraland, and they all disappeared in the first twelve hours, so they had to reproduce more and extend the event from one week to two.
Geraldine pointed out that we all have a digital identity already in the form of our data, referring that fashion is going through a transition where people can't consume as much as they used to, and is having to find new ways of creating the dream of fashion, and the metaverse does that. "It's coming at the right time because the veneer of online shopping is a bit dull now."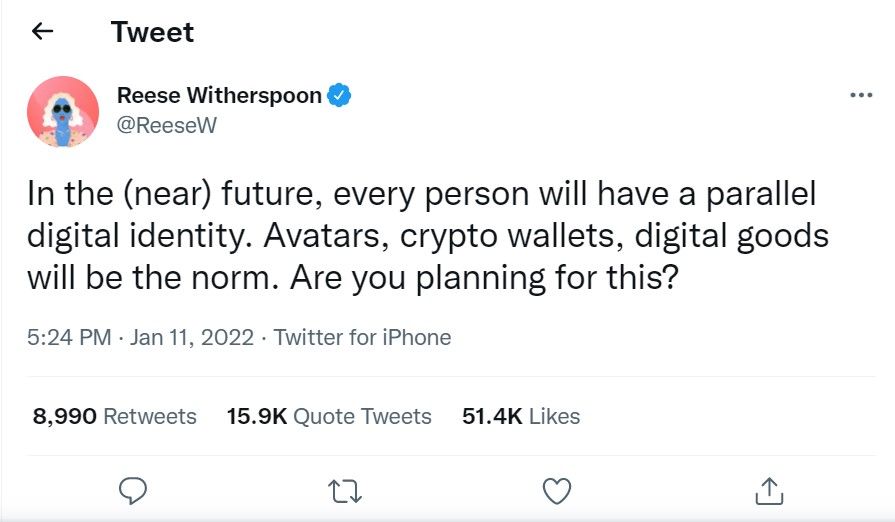 At the virtual fashion week, the Institute of Digital Fashion did a collaboration with designer Roksanda Ilincic, and you could see the dress in AR and purchase it as an NFT, but in pounds not crypto currency. Nora mentions the metaverse is populated by Gen Z, who are basically the consumers of the future.
"You may start to purchase a branded high fashion house NFT because you can't really afford the real goods and it becomes a part of your world and you slowly grow up in your lifecycle with that brand being around you, so the likelihood that you're going to be purchasing it at some point in your life, when you have the right cash flow, is quite high because you grew up with it."
It's not a mass market and not everyone needs to be on the metaverse but it's a great way of engaging with the future consumer. Geraldine tells a funny story about a 13 year old arguing with his father at a restaurant because he had limited the number of skins he could buy, so he was trying to manipulate the whole table to convince his father to get him more skins.
She refers the Proteus effect, first introduced by researchers Nick Yee and Jeremy Bailenson at Stanford University in June 2007. It examines the behavioural effects of changing a user's embodied avatar. "For example, if the avatar is considered attractive, they will feel more confident. Avatars that were taller were more aggressive and unfair in negotiations, there's this type of connection with your avatar that affects your behaviour."
Geraldine experienced this first hand when talking to Ai-Da robot, the first AI artist in the world, and was drawn aback by her own connection with the robot.
Nora adds: "just imagine having this double life where you can be who you want to be, look the way you want to look, it's not predestined, you can design and form your personality or the way you are, it's liberating for a lot of people! But I'm sure it will open another conversation about mental health issues, because sooner or later people will start having double identities and how do you deal with that? Which life is real life?"
This is also an important part of Geraldine's research and some experts have expressed concerns about DAO (Decentralised Autonomous Organisation), where everyone owns a bit of crypto, so everyone has a say. Crypto is incentivised as in social media, people need to produce content all the time and this can lead to anxiety.
But there are also amazing results when treating post-traumatic stress and vertigo. People who are non-binary or transitioning felt they could express who they really are in the metaverse. "I've interviewed the Institute of Digital Fashion founders and we were discussing the idea of not calling avatars characters and understanding that everyone has different ways of identifying with the avatars, someone might want an avatar that's identical to their real life person, but someone else might want to look like a gorgeous fish or bird, it's limitless!"
You can even collaborate with an AI, and some designers are now co-designing with algorithms and building fashion co-ownership models, such as McQ, Alexander McQueen's contemporary diffusion line. Louis Vuitton just opened the first store accepting crypto currency, and Pronovias recently became the first bridal brand to produce NFTs.
A lot of brands are entering the metaverse, and experiences are becoming more and more elevated and fantastic, as they start competing for the attention of avatars, like you would in the high street. Geraldine names Hugo Richel, a digital artist who does campaigns for fashion luxury brands such as Valentino, creating incredible virtual worlds. Ironically, he finds his inspiration when going surfing and by immersing himself in real life nature.
There are many conversations that need to happen around this fascinating and challenging topic. To learn more about business opportunities in the metaverse, click here.

Pronovias in the Metaverse