09 Mar 2020
Who's who at Pure Origin… Rachel Johnson, JD Sports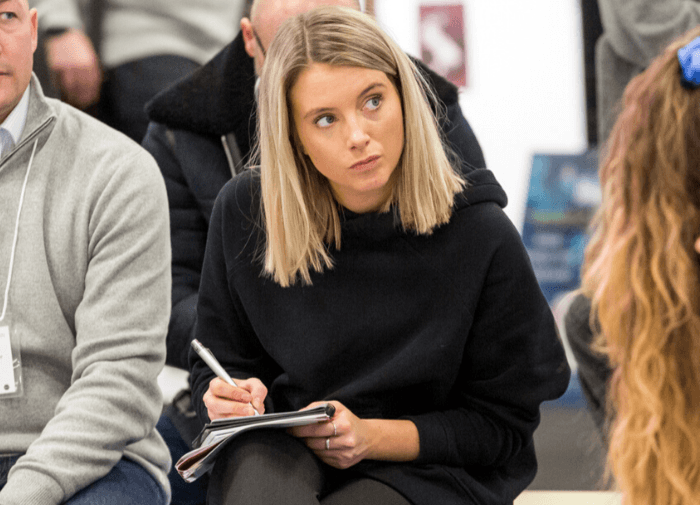 Read what happened when I caught up with Rachel Johnson, Sourcing & Sustainability Manager for JD Sports.
Tell me a bit about your job role – what does a "standard" day look like for you?
I started as a buyer at JD Sports. At that time, we didn't really have a sourcing team, and the buyers kind of did some sourcing as well. But in the last three or four years, it's becoming so important to source the right products and I was asked by the Head of Sourcing to join her team, so I changed job roles and became Sourcing Coordinator. And then, last year, we started our sustainability project at JD Sports, and it was my role to start that. So as well starting that, I did an apprenticeship in project management and took on the whole sustainability project for the whole own-brand department. Obviously, we don't have much control over other brands' supply chains, but we have nine own-brands that we design and develop in-house, so we get to manage the full supply chain. So at first, it was a case of swapping things out to make our pieces more sustainable, but now we've got to a point where we're actually designing sustainably; we've got about 1.6million pieces in the collection so far that are sustainable, which is about 23% of our full offering. So, although we don't really shout about it at JD Sports, we are ticking the boxes and the government know we're doing it. It's really my job to be all things sustainable!
Are there are particular sustainable initiatives JD Sports are championing right now?
The main thing we're doing right now is really looking at all our fabrics and swapping out for more sustainable options as much as we can. At the moment, we're using BCI cotton, as we're trying to look at the more ethical side of sourcing as well. There's a lot of fabrics that aren't right for JD Sports. Organics and certain cottons have a certain look about them, they're hard to dye and the product's really different. We can't really sell organic to our customers, as that's not really something they buy into, so it's really a case of swapping like-for-like fabrics with a sustainable edge like BCI cotton and recycled polyester. We're not actually seeing much of an increase in price either, it's about a 5 or 10 cent increase on FOB orders on the BCI cotton. The first time we asked our suppliers about their sustainable materials they weren't really sure what we were asking for, but now, nearly a year later they're all using sustainability as one of their key USPs. So we're really building momentum with the fabrics, but the next step is more around the processes. For example, our dyeing and printing processes use a lot of resources, so now we're looking to see what our factories can do when they're working with those fabrics.
Why are you attending Pure London and Pure Origin this season – is there anything in particular you're looking for?
The main reason I come to events like this is for the seminars. Just to see if I can pick up what other companies are doing; working together is really the best way to tackle sustainability, so it's really useful to see what other people are saying and pick up any ideas they have. Pure Origin is what I normally come to, mainly for the seminars, but I do sometimes pick up new suppliers too if there's a particular niche that we're looking for that we don't have in our existing supply chain.
What's caught your eye so far?
The first session I went to today was the best one I've been to. It was with Richard Blackburn from Leeds School of Design, and it was more from a chemistry point of view. He wasn't just talking about trends, which is often more relevant for small brands and start-ups, whereas this was more on a JD Sports level. He was speaking about fabric composition, the actual science behind fabrics like recycled polyester and the good and bad points for the environment. Sustainability is such a broad topic and we need to channel what we're going to do, whether that's saving water, using more sustainable fabrics or implementing a take-back programme for example.
What are the trends you're excited about right now?
The one trend we are trying to incorporate into our collections links into trying to design more sustainably. As much as our customer wants new designs, we're not "fast fashion", so we're trying to move away from that perception that we are and design more core ranges that can sit throughout all of our ranges and seasonal collections.
Describe your personal style.
I think I've been sustainable for a while! I always wear black, which has become a bit of a running joke, but I've known from an early age what suits me and what I like to wear. I don't just go for the latest trend if I know it won't suit me, I'd rather pay a bit more for things and buy less. I always buy things that go together. I'm also quite into things like eBay and Depop and I can sew a button on, so I'll either sell something or fix it, rather than throwing it away.
How would you describe Pure London in 3 words?
Exciting, innovative and sustainable.
Meet industry professionals like Rachel at Pure London and Pure Origin this July. Apply for your spot on the line-up at the Festival of Fashion from 19th - 21st July 2020.
This post was created by Pure London editor Emma Wilder

---
About Pure London and Pure Origin
We are the UK's number one leading fashion trade event that brings together the entire fashion supply chain, right the way from fibre through to finished ready to wear garments.
No other UK show offers sourcing and brands together, making Pure London and Pure Origin the only event to cater to all your fashion buying needs under one central London roof.
Location & Opening times:
Olympia London,
Hammersmith Road,
Kensington,
London W14 8UX
-
Sunday 19th July 2020, 09.30 - 18.00
Monday 20th July 2020, 09.30 - 18.00
Tuesday 21st July 2020, 09.30 - 16.00