14 Nov 2019
Why Pure London is a must-visit, according to buyers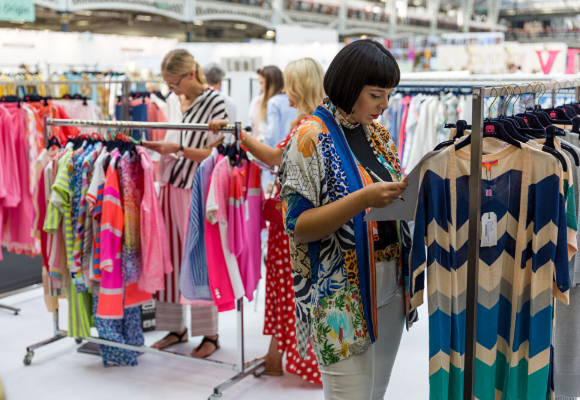 From big name brands to exciting industry-leading independents, Pure London is a must-visit trade show for fashion buyers from across the UK and the rest of the world. There's a reason Pure London is the UK's leading fashion trade show, but just in case you don't believe me, I've rounded up some of the quotes from SS20's 7000+ visitors…
As a show, we celebrate newness, innovation and the latest developments in our ever-changing industry. For Modern Wear owner Shuirai Mudere, this was a key reason to visit the show. She told me: "Pure London is insightful and mind opening for the new trends and getting insight into the current industry situation... I came this season for the sustainability sessions to see how the industry is improving and constantly changing – something that I can apply to my business."
Meanwhile, for Pure London first timer, Michaela Lill, owner of My Suitcase Boutique, the draw was all about the networking opportunities: "it's my first time at Pure and it's been interesting to meet all the different brands and see how the industry works for them, as well as being able to network within the industry and build up my contacts."
Unsurprisingly, it was Pure London's industry-leading content sessions that drew so many of last season's attendees through the doors of Olympia London. Paula Shorah, of high street lingerie retailers Bravissimo, commented on the panel sessions saying, "it's interesting to hear other brands and suppliers asking questions. The content I've seen so far is really good if you're looking to gain knowledge."
Elsewhere, WoolOvers Buyer Emily Dudson mentioned both technology and sustainability as key topics to catch on the SS20 stages, whilst Pure London regular Charlotte Sekund from Jacobsson's touched on the famous catwalks, saying, "I have been coming to Pure for four years now and I always make sure to see the [catwalk] shows. They're really exciting and, along with the seminars, are really useful to discover more about trends for next year".
Naturally, with the Power of One campaign in full swing, sustainability was a key priority for many of our buyers. Erin Foster, of Aura Lingerie commented, "with sustainability, it's quite difficult to implement that much change, especially if you're a bigger brand. It's just [difficult to find] the practical advice, sometimes, bit so far, it seems like Pure is providing that."
Get your collections in front of the buyers who matter at the next edition of Pure London. Join the line-up in the iconic Olympia London from 9th – 11th February 2020 and be part of the Festival of Fashion.
This post was created by Pure London editor Emma Wilder
APPLY FOR A STAND
---
About Pure London and Pure Origin
We are the UK's number one leading fashion trade event that brings together the entire fashion supply chain, right the way from fibre through to finished ready to wear garments.
No other UK show offers sourcing and brands together, making Pure London and Pure Origin the only event to cater to all your fashion buying needs under one central London roof.
Location & Opening times:
Olympia London,
Hammersmith Road,
Kensington,
London W14 8UX
-
Sunday 9th February 2020, 09.30 - 18.00
Monday 10th February 2020, 09.30 - 18.00
Tuesday 11th February 2020, 09.30 - 16.00