11 Nov 2019
4 reasons to exhibit at Pure Origin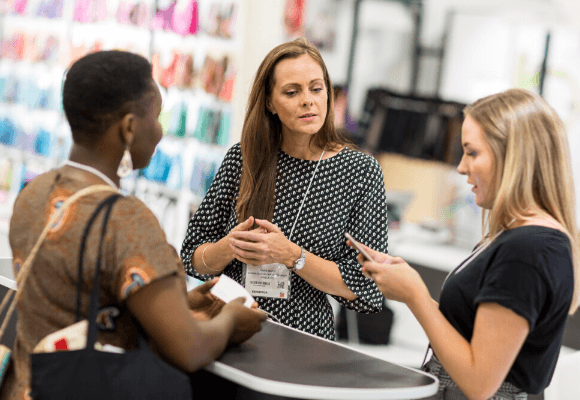 Anyone who's read the news recently won't be a stranger to the doom and gloom that's currently being prophesied for the UK economy. With political uncertainty continuing to hover over London, businesses are, naturally, cautious about the best next steps to take.
But, bad news aside, the UK fashion industry is defying all odds in a way that only fashion can. As an industry, the British fashion market is worth £32bn, making up over a quarter of the value of the global fashion industry as a whole.
Needless to say, the UK market is worth being involved in. And UK fashion sourcing shows, like Pure Origin, provide just the platform to do so. Here are 4 reasons why it's important to exhibit at Pure Origin this season:
#1 London is the world's fashion capital
As a city, London is second-to-none when it comes to the influence it pulls in fashion. London produces some of the most exciting names in fashion, and street style in our hometown is idolised around the world. What's more, it's a European hub for designers, buyers, sourcing managers and more to meet the industry and make international connections.
#2 Access to a world of fashion under one roof
Pure Origin is the UK's only fashion sourcing show to unite all elements of the fashion supply chain under one roof. Hosted alongside ready-to-wear trade show, Pure London, Pure Origin brings everything together, from raw fibre to finished collection. It offers an easy and efficient platform for visitors and exhibitors, from both the UK and around the world, to connect, trade and surpass their business objectives for the season ahead.
#3 Trade shows offer excellent ROI
We understand that by exhibiting at any trade show, you're investing so much more than money into your stand. Not only to business-first shows, like Pure Origin, offer you the opportunity to do business with the people who matter the most, they also offer a return on time and a big boost to brand exposure. A regular presence at Pure Origin allows you to build your business' presence and cements your name in the minds of key retailers and brands, creating the ideal international platform to build lasting relationships which otherwise may not have connected.
#4 We bring the business to you
The Club at Pure Origin is dedicated to bringing some of the key names in retail, design and sourcing straight to you. Our dedicated Buyers Acquisition Manager works throughout the year to research, reach out to and deliver the key individuals with purchasing and procurement power to the show. What's more, our brand-new matchmaking app is designed to make connections seamlessly integrated, so you can arrange meetings before you even arrive at the show.
Join the line-up at Pure Origin and be part of the Festival of Fashion for 2020. Register to exhibit with us from 9th – 11th February in the heart of the UK fashion industry.
This post was created by Pure London editor Emma Wilder
Source: "The Size of the Global Fashion Retail Market" article by Common Objective
Source: "UK Fashion industry statistics and marketing insights" article by Marketing Expertus
---
About Pure London and Pure Origin
We are the UK's number one leading fashion trade event that brings together the entire fashion supply chain, right the way from fibre through to finished ready to wear garments.
No other UK show offers sourcing and brands together, making Pure London and Pure Origin the only event to cater to all your fashion buying needs under one central London roof.
Location & Opening times:
Olympia London,
Hammersmith Road,
Kensington,
London W14 8UX
-
Sunday 9th February 2020, 09.30 - 18.00
Monday 10th February 2020, 09.30 - 18.00
Tuesday 11th February 2020, 09.30 - 16.00