13 Jun 2019
Beyond the brands with Henrietta Holderness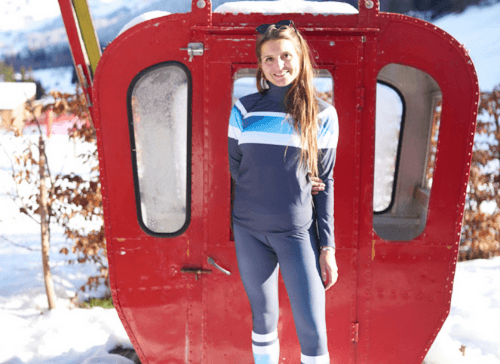 Our Senior Marketing Executive, Lucy Green, had the pleasure of spending an afternoon with Henrietta founder and designer at H. Holderness who talked us through the process of starting her own brand, the journey she's gone through with her business and how she's feeling about her upcoming debut at Pure London this season.
How did H. Holderness start?
I spent the last three years living the winters in the French Alpes. I only really skied with my family, so the style aspect didn't matter, and I would always wear my wooly long johns, looking really lame. I saw that all these other girls were wearing all these gorgeous gym leggings with bright girly designs. However, although they looked great they were always complaining about how cold they were or how zips/ seams were digging in. They were great for the gym but for skiing, not so much. That's how I discovered a gap in the market for these aesthetically pleasing leggings that not only looked good but also had thermal regulating property.
What do you do in the company?
I do everything from start to finish. I work with a few freelancers, but I'm involved from concept and design through to finished product. My background stems from studying Jewellery design at Central Saint Martins and then weirdly I went into Geography for my BA. It sounds odd, but if you step back and think about it geography, design and skiing actually do work hand in hand.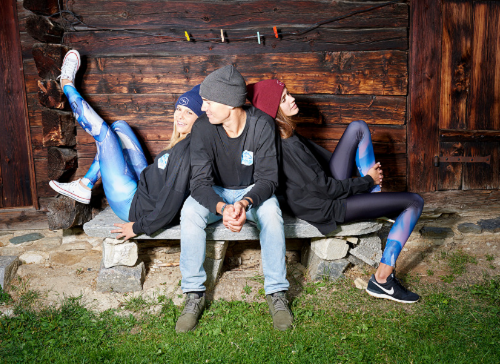 What makes your brand stand out from the rest?
I love to tell people all our fabrics are manufactured in the UK – I'm really proud of that. It has antibacterial properties which allows you to not wash your leggings for up to three weeks, which is always a plus when wearing them for sports. They are soft brushed interior which also acts as a thermal regulator. These are all aspects normal gym leggings don't necessarily offer. They can be used for water skiing, gym leggings as well as just dog walking. Not to mention they look great!
What was the hardest thing you found when starting up a company?
I think when you have an idea and you get so excited about it there's a temptation to just jump in and potentially launch a product that isn't suitable and or in line with how you envisioned it. It takes a lot of planning and trial and error before you can start. It's easy to get carried away but you learn that along the way and know how to control that.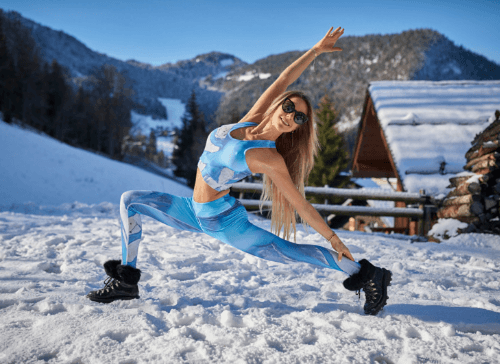 Where do you get your inspiration from for your collections?
I try and steer away from the snowflakes and reindeers that are traditionally on skiwear. I generally use nature and the outdoors to draw on anything creative for my collections. For one of the latest collections I have used inspiration from the slopes, the light on the mountains creates a great pattern that I developed into a ready-to-wear all-over print.
What does the future hold for H. Holderness?
I want H. Holderness to become a household name and to be synonymous with great quality and design. I want it to be worn on the slopes as well as at the gym and for the girls who wear it to love wearing it. I think there is one thing having a brand but another thing to offer an experience that goes parallel with that and that is a main focus for me in the coming years.
This will be your first season exhibiting at Pure London, why have you chosen Pure London?
One of the main reasons is because I want to tap into the UK market. Pure is a huge event and is on everyone's radar in fashion. Trying to get hold of buyers, ringing and emailing and meeting up becomes almost impossible, so going to Pure where they are all in one place makes sense. The amount of man power and hours to speak to those buyers will be cut in half, hopefully. Also going to Pure will allow me to gain the exposure I think H. Holderness needs in the UK market.
Finally, how would you sum up H. Holderness?
H. Holderness is the marriage of both aesthetics and performance. Base layers that perform on the slopes and look good enough to show off afterwards! Piste to party!
Join H. Holderness this season at Pure London SS20!
Register today APPLY FOR A STAND
---
About Pure London and Pure Origin
We are the UK's number one leading fashion trade event that brings together the entire fashion supply chain, right the way from fibre through to finished ready to wear garments.
No other UK show offers sourcing and brands together, making Pure London and Pure Origin the only event to cater to all your fashion buying needs under one central London roof.
Location & Opening times:
Olympia London,
Hammersmith Road,
Kensington,
London W14 8UX
Sunday 21 July 2019, 09.30 - 18.00
Monday 22 July 2019, 09.30 - 18.00
Tuesday 23 July 2019, 09.30 - 16.00