05 Aug 2019
Meet the buyer… Megan Calcutt, Cordelia James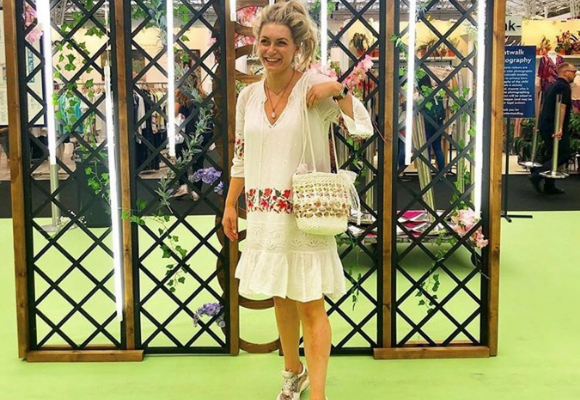 From indies to department stores and everyone in between, Pure London attracts some of the country's top buyers each and every season. SS20 proved no exception, with some of the most exciting names in fashion joining us for three-days of insight and inspiration. Amongst our visitor line-up, I caught up with Megan Calcutt from Kent and Sussex-based boutique Cordelia James. Megan gave me the lowdown on the trends she's looking out for this season, what she loves about Pure London and, of course, what it's like to work with your mum!
Tell me a bit more about Cordelia James and your role in the business
Cordelia James is run by myself and my mum. Mum started it in 2008 and since then we have opened 3 shops. I joined the business in 2016 after uni and we run all three together now which is really nice. It's an independent womenswear and fashion boutique, selling a huge selection of different brands from all over the world.
Our first store is in Hawkhurst, in Kent, and then more recently we opened in Rye and Lewes on the Sussex coast.
I am a buyer alongside Mum and I also look after our social media and website. We don't sell online but it is a source of information and inspiration for our customers so I try and keep that up to date as new things come in. I'm also in the shop most days, which I think is the most important thing – you can't run a business without meeting your customers. Your customers need, and want, to know the faces behind the business. It also means we get to learn first-hand what they'd like to see from our collections. I definitely buy with certain customers in mind!
Some of our brands are quite well known – Mercy Delta, Pyrus and things like that – and then other, slightly lesser known brands that are slightly more quirky and a bit different but they've got a real following. So, it's sort of a huge collection and it's so diverse, but it definitely keeps us on our toes! It means that our customer range is also huge.
Why are you attending Pure this season?
We come every season. I actually started coming to Pure when I was still at school – I must have been about 15. I used to come with Mum just to see what it was like and I got really into it. Having those experiences got me really interested in selecting clothes and choosing collections and then learning how to work to a budget and the importance of that. She started off by making me try on all of the clothes, because you have to see what they look like.
So now, I still try on all of the clothes and I use myself as a sort of constant between all of the different brands. It's really important just to know the cut and the fit of a piece and if there's something that needs to be changed, or if there's an element that's not quite working. It's just much better to see it on someone.
We've come to Pure as there are a few brands here that we need to see to make orders with, that we see every single year. But we've also made appointments this season with some new brands for us as well. We're always looking for something new and different!
Our primary reason for attending is obviously to make orders with certain brands, but it's always really interesting to get an overview of colours and trends for the season ahead. You'll often see a pattern here and at a big show like this, it's really easy to spot.
Are there any trends that you're excited about right now?
I think the consumer at the moment is really focused on the eco-friendly side fashion and that has just become more and more prevalent as the seasons have gone on. I think now, more than ever, people are really starting to look for where their clothes are made, how they're made and certainly what they're made from. So, I suppose in terms of the trends, we're seeing a lot of natural fabrics. Linens and cottons are really popular. Where colours are concerned, I'm seeing a lot of green around. I wouldn't usually buy green but it's such a versatile and varied colour at the moment so my perception's really changed. I think it's in keeping with that whole natural vibe and we're seeing it alongside a lot of whites and ecru and cream. Neutrals are always really popular especially in line that overly feminine look – lots of bows and ruffles. That uber-feminine look is something we really saw grow last season with that long, 70s, boho-chic vibe. I would love to see that develop alongside the growing trend for pastels.
If you could describe Pure London in three words what they be?
Exciting, fresh and colourful.
Missed out on meeting the buyers this season? Be sure to clear your diary for the next Festival of Fashion on 9th-11th February 2020 and take your place at the UK's leading fashion trade show. We are the UK's number one leading fashion trade event that brings together the entire fashion supply chain, right the way from fibre through to finished ready to wear garments.
---
About Pure London and Pure Origin
We are the UK's number one leading fashion trade event that brings together the entire fashion supply chain, right the way from fibre through to finished ready to wear garments.
No other UK show offers sourcing and brands together, making Pure London and Pure Origin the only event to cater to all your fashion buying needs under one central London roof.
Location & Opening times:
Olympia London,
Hammersmith Road,
Kensington,
London W14 8UX
Sunday 9th February 2020, 09.30 - 18.00
Monday 10th February 2020, 09.30 - 18.00
Tuesday 11th February 2020, 09.30 - 16.00