13 Sep 2019
Meet the product technologist… Sarah Poulton, Marks & Spencer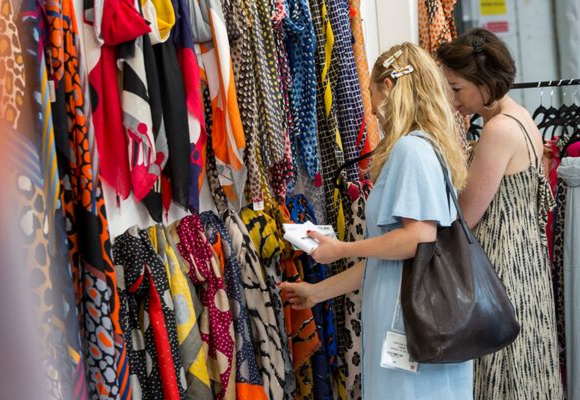 From big names to independent boutiques and designers, Pure London and Pure Origin draw an enviable crowd. Product technologist for Marks & Spencer, Sarah Poulton, sat down with me at the July 2019 edition of Pure Origin to explain more about her role, her favourite trends of the season and more…
Tell me a little more about your role and what a standard day looks like
So, I am a product technologist at Marks & Spencer. I've been with the company for about 18 months now, and I am responsible for the fit and quality of our jersey tops in womenswear. I don't think we have such a thing as an average day, but maybe it could be described as more of an average week! So, we have a lot of trade meetings on a Monday, where we discuss figures and sales performance; we look at any actions that need to be taken where perhaps we're low on stock, where we can get repeat orders and so our merchandising team deal with that.
For me, again, the main focus is quality and fit, so I'll be looking at customer reviews. Up until recently, I've had the support of a technologist assistant, who works across Wovens and Jerseys, so we might share information about different fits and different products and what's working well across other departments.
We'll go through a list of what needs to be done that week, so if we've had any quality issues that we need to pick up on or any potential trips to regions where we maybe need to go and do some sourcing, or we need to visit a factory, or any other projects that we're working on. So, at the moment, we have the T-Shirt Bar, which is quite a big collection of basic t-shirts and we've been finalising the fit and updating the product in response to customer feedback and then also standardising the wash and care instructions as well!
So, in short, I do a lot!
We've got a big focus on Plan A at Marks & Spencer, so there's a big focus on sustainability. We're currently looking at our fabrics; we know that our customer loves natural fibres, so we're looking at upgrading where we can and making sure all our cotton is BCI standard, whether we can get our viscose from a sustainable source, which we're really pushing across our range, and if we are using polyester in our Essentials range just making sure it's always recycled, and it might be a blend of eco-viscose as well.
Why are you attending Pure London and Pure Origin this season?
I do try to come to a lot of exhibitions and fashion fairs in London. For me today, there were a lot of seminars that I was interested in. I was quite curious to learn a bit more about ageless consumerism [with Jacynth Bassett] and I enjoyed the talk about the OEKO-TEX performance of factories and sustainability and their eco credentials. The other one I enjoyed was the social media talk because I've just always been interested in what's next in the industry and how brands can really engage with their customers.
What are the upcoming trends you're most excited about right now?
It's definitely a trend more for consumer behaviour, I think, but in terms of the sustainability movement that's very exciting right now. From our own customer insight information, we can see that there's quite a decline in customer spending across the high street and also in the number of consumers there actually are. So, in other words, there's fewer people consumer and they're spending less money. It's interesting to see how that's impacting on big brands and I think one of the quotes that really stuck with me today is "it's not what you sell, it's how you sell it"; it is really about your ethical and eco credentials, what you're doing to support the communities in which you manufacture, how you're selecting the factories you manufacture with and what kind of product you ultimately want to sell. I feel like sustainability's been at the core of Marks & Spencer for a very long time, however, it's now become a bit of buzzword in the industry. Everyone's shouting about it – there's a lot more happening around it and I feel like consumers are actively looking for more information about it now. So, I'm curious to see how retailers will respond to that.
Describe your personal style…
Well, I do love a bit of colour! It's interesting. I've worked at a few places recently – ASOS, Topshop, now M&S – and I always try to buy the brand. I feel like I need to buy into it otherwise what's the point of working there? I do like some crazy stuff though; my style is very glitzy - I'm a bit of a magpie! I was at Glastonbury this year, so I've got quite a lot of sequins and rhinestones in my cupboard at the moment! But on the flip side of that, I am really into my natural fibres and printed cottons. Anything loose and floaty in this hot weather!
If you could describe Pure London in 3 words what would they be?
Sustainable, colourful and fresh.
Missed out on meeting the big names this season? Be sure to clear your diary for the next Festival of Fashion on 9th-11th February 2020 and take your place at the UK's leading fashion trade show.
APPLY FOR A STAND REGISTER TODAY
This post was created by Pure London editor Emma Wilder
---
About Pure London and Pure Origin
We are the UK's number one leading fashion trade event that brings together the entire fashion supply chain, right the way from fibre through to finished ready to wear garments.
No other UK show offers sourcing and brands together, making Pure London and Pure Origin the only event to cater to all your fashion buying needs under one central London roof.
Location & Opening times:
Olympia London,
Hammersmith Road,
Kensington,
London W14 8UX
-
Sunday 9th February 2020, 09.30 - 18.00
Monday 10th February 2020, 09.30 - 18.00
Tuesday 11th February 2020, 09.30 - 16.00