25 Jul 2019
Newsletter #10 | Highlights from the Pure London stages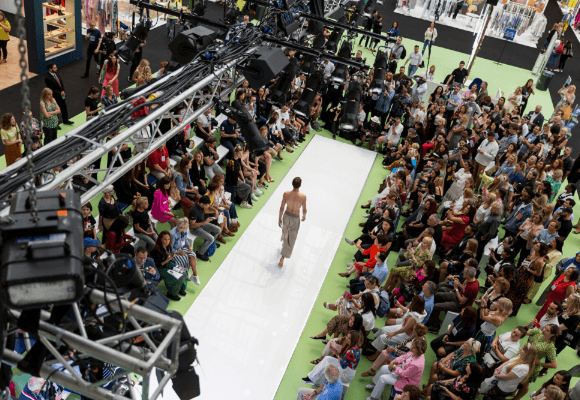 Who can believe that another Pure London has come and gone already? For my second season as Pure London's editor, I'll be taking you through some of my highlights from the show.
Hear from Pure London and Pure Origin's visitors and exhibitors as they shared their thoughts on the show with us. From there, join me as I explore the key trends informing the Pure London Main Stage catwalk.
If that wasn't enough, relive the key content sessions and take away some of the key learnings from our three-day programme.
Finally, I caught up with ASOS buyer Anthony Kitterman at the show for a chat on all things fashion. Find out what trends he's looking out for right now, what he's looking for in a brand and just why attending Pure London is so important for the online retail giant.
Discover the best of the SS20 edition without even lifting a finger and don't forget, Pure London will be back in Olympia London again from 9th – 11th February for even more festivities.
Happy reading!
Emma Wilder
Content Editor
ALL THE BEST BITS FROM THE SS20 STAGES
There's no denying it; content is at the heart and soul of what we do. From the written content brought to you right here on the Pure London blog to the sessions on each of our exciting show stages, there's a lot to take in. And since no one can be in two places at once, I've rounded up all the best bits from each stage to make sure you're all up to date and in the loop on everything that went down this season.
On the Main Stage
Fashion is currently on such a messily over-consumptive model that we've sort of lost the joy in it. We collectively have to find ways of bringing that joy back – Patrick Grant on the Pure London Main Stage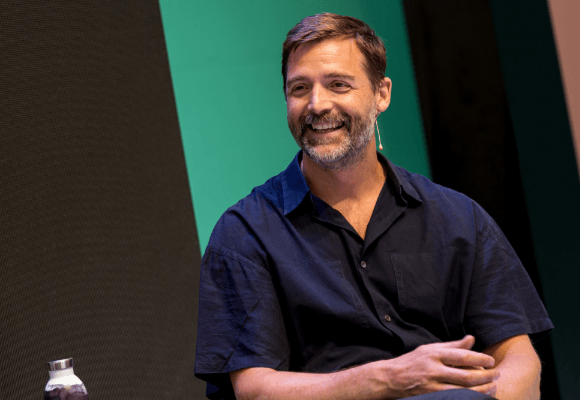 The Main Stage was graced by not one, but two keynote speakers this season, as well as appearances from a myriad of key industry names.
Kick off day on the Main Stage saw the return of the iconic catwalks, plus appearances from Nayna McIntosh CEO of Hope Fashions, Jane Kellock founder of Unique Style Platform, as well as Pure London partners, represented by TheIndustry.com's Lauretta Roberts, Common Objective's Qiulae Wong and Conscious Fashion Campaign's Kerry Bannigan.
Headlining the Main Stage for opening day was keynote Patrick Grant. The entrepreneur, designer, TV personality and fashion philanthropist shared wisdoms from his extensive experience, after a tour of Pure London's menswear and conscious exhibitors. Alongside Lauretta Roberts, Patrick discussed the issues facing fashion today including the gaps between seasonality and sustainability, the missed opportunities to bring production back to the UK and the need to bring back dying skills in the textiles and clothing industries.
Monday on the Main Stage brought even more insight, with a look behind the headlines from PwC as the experts presented their recent report covering the shift to "cautious consumption", the importance of market share and more. From there, an expert panel, chaired by the UN's Kerry Bannigan, took a look at the future of sustainable fashion, highlighting the necessity for collaboration rather than competition.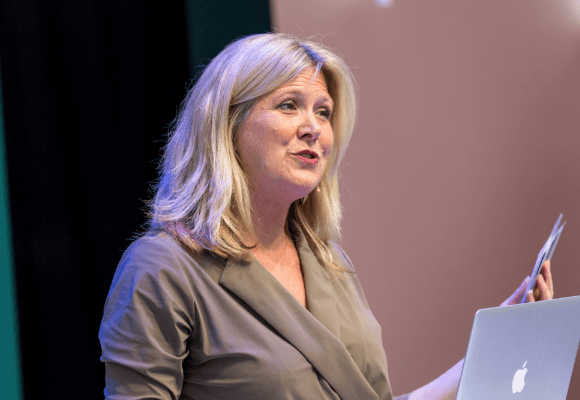 Monday also saw Pantone return to the Main Stage, with Abigail Bruce presenting the latest colour trends for SS20 and beyond, including a look at the "Shell" palette featured on the Pure London catwalk. Telling us about the thinking behind the shell palette, she says, "clothing is a form of armour, and every single garment you wear is a form of communication… This palette symbolises something that may appear fragile and delicate but is in fact hard and protective".
Brigitte Stepputtis completed Monday's speaker line up. The Head of Couture at Vivienne Westwood, and our second keynote speaker for the season, discussed the iconic brand's journey to sustainability and the designer's position as the ethical fashion trailblazer.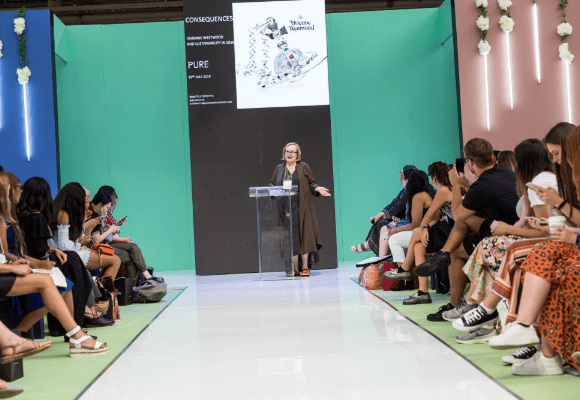 Closing day at Pure London brought Godfrey Deeny to the stage, as the international fashion critic talked all things future, giving us a glimpse at the catwalk trends, designer names to watch and more. We were also treated to a second appearance from Common Objective's Qiulae Wong who closed SS20 on the Main Stage with a discussion on just how businesses can get sustainable.
On the Future Stage
As its name suggests, the Future Stage celebrates all things new, innovative or up and coming. This season, the Future Stage catwalk showcased exciting collections from Pure London brands. Established names like Glamorous, Don, Rupert & Buckley and Urban Bliss took their place beside emerging brands Just To Say… London, Stone Valley and Sorry I'm Different.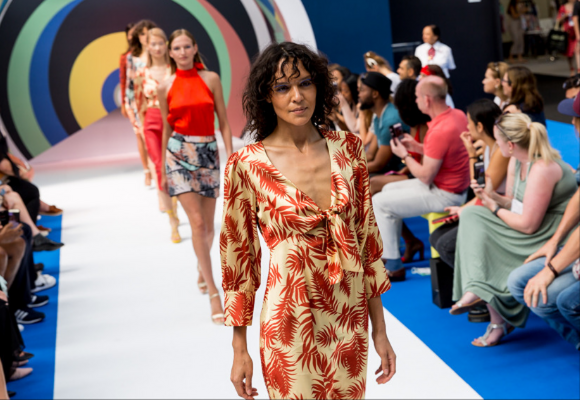 Sunday's Future Stage sessions offered practical business advice, including a session on launching a new fashion brand and the top tips for social media and eCommerce. Ageism trailblazer Jacynth Basset also gave us an insightful look into understanding the modern consumer and told us why age is just a number where fashion is concerned.
We kicked off on Day Two with a look into the business of buying hearing from Keely Stocker, editor at Drapers. Influencers were a hot topic on Monday's Future Stage agenda, as Jamie Windust, Natalie Lee, Olivia Pinnock and Alison Bringé all took to the stage to discuss the role online personalities play in fashion and identity. Sustainability was a hot topic as ever, with a sustainable styling session from Roberta Lee and a look at responsible retail.
The Future Stage closed the show with a bang, featuring a session on menswear styling with expert story teller Karlmond Tang and a glimpse into the future consumer's wardrobe. The final catwalk for the Future Stage and for the SS20 edition as a whole perfectly captured the summer party vibes we'd all been feeling this season, as our models danced their way down the catwalk.
On the Origin Stage
If the Future Stage is all about what's new, the Origin Stage is all about what's next. The second ever Origin Stage catwalk featured the textile trends for AW20/21 to bridge the gap between concept and finished collection. Based on trend intelligence provided by Unique Style Platform the Origin catwalk and trend feature showcased four upcoming trends; Opulence, Hibernate, Hi-Tech and Attune (which you can read about here).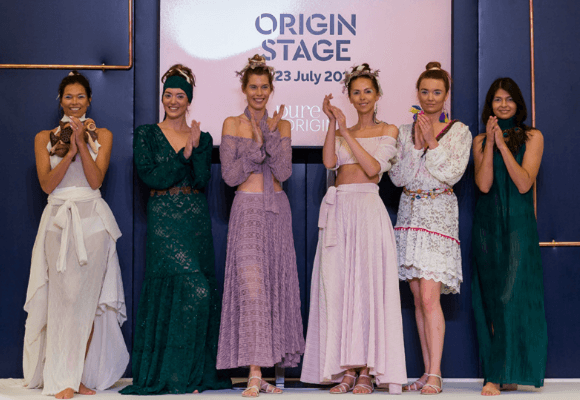 Day one on the Origin Stage focused on the mills, makers and factories involved in the supply chain. From how to choose them to the benefits of British manufacturers our speakers spoke from their own design experience. Following these, we took a shift to focus on the key principles of sustainable design and production, before closing the day with a look at how your supply chain and your branding should tell the same story.
Monday's Origin offering was more varied. We first heard from Kerry Bannigan, who discussed the Power of One and the UN global goals, before an expert panel on creating an ethical and risk-free supply chain, as well as how this is a key element to your brand story. The afternoon saw us take a hop across the pond to learn about the key opportunities for manufacture in the USA from some of the nation's key delegates, followed by a look into just what we can do with wool.
Christopher Stopes, Director of the Global Organic Textile Standards (GOTS) made his return to the Origin Stage for a second season helping us to locate the easy wins for sustainability success. Plenty more fashion business insight closed the day on the Origin Stage with sessions from Trend Academy founder Marie Oakes, designer Rose Danford-Philips and editor at WTiN Madelaine Conforth.
With so much to see at Pure London and Pure Origin, it's clear why ours is such an unmissable show. If you missed out this season, don't panic! We'll be back in Olympia London from 9th – 11th February 2020 to bring you even more exclusive insight, trend intelligence and inspirational speakers. Save the date!
Continue reading Newsletter #10
About Pure London and Pure Origin
We are the
UK's number one leading fashion trade event
that brings together the entire fashion supply chain, right the way from fibre through to finished ready to wear garments.
No other UK show offers sourcing and brands together, making Pure London and Pure Origin the only event to cater to all your fashion buying needs under one central London roof.
Location & Opening times:
Olympia London,
Hammersmith Road,
Kensington,
London W14 8UX
Sunday 9th February 2020, 09.30 - 18.00
Monday 10th February 2020, 09.30 - 18.00
Tuesday 11th February 2020, 09.30 - 16.00