01 Aug 2019
Newsletter #10 | The best of the best: Pure London SS20 round up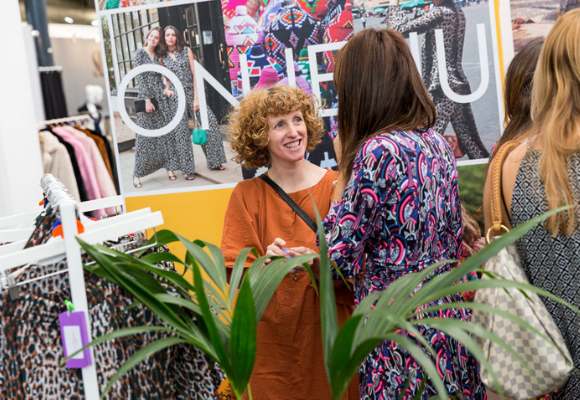 Who can believe that another Pure London has come and gone already? For my second season as Pure London's editor, I'll be taking you through some of my highlights from the show.
Hear from Pure London and Pure Origin's visitors and exhibitors as they shared their thoughts on the show with us. From there, join me as I explore the key trends informing the Pure London Main Stage and Origin Stage catwalks.
If that wasn't enough, relive the key content sessions and take away some of the key learnings from our three-day programme.
Finally, I caught up with ASOS buyer Anthony Kitterman at the show for a chat on all things fashion. Find out what trends he's looking out for right now, what he's looking for in a brand and just why attending Pure London is so important for the online retail giant.
Discover the best of the SS20 edition without even lifting a finger and don't forget, Pure London will be back in Olympia London again from 9th – 11th February for even more festivities.
Happy reading!
Emma Wilder
Content Editor
PURE LONDON SS20: EVERYTHING YOU NEED TO KNOW
As I'm sure you'll know, Pure London's SS20 edition rode the heatwave all the way to Olympia London this July. Bringing the latest collections, an exciting array of new and established designers, inspiring catwalks and speaker sessions and much more, cramming all the highlights into a few words of copy is easier said than done!
Spurred on by summer spirit, Pure London SS20 opened to a feel-good atmosphere on Sunday. There was a paradoxical sense of calm and busy-ness on the show floor this season, with plenty of orders being written in a sunny environment (metaphorically and literally, thanks to the venue's iconic glass roof).
Ever the front-runner when it comes to industry-leading content, Pure London and Pure Origin's three stages were packed full of sessions from the best names in the business right now. Keynote sessions from Vivienne Westwood's Brigitte Stepputtis and Patrick Grant attracted visitors and exhibitors alike, whilst the iconic catwalk sessions, showcasing trend forecasts from Unique Style Platform, gave us a glimpse into SS20 and beyond. But more on those later.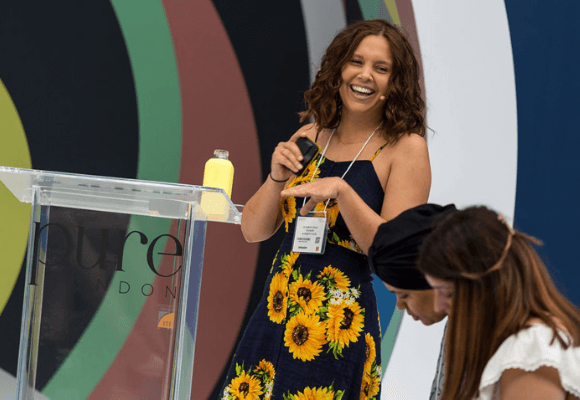 Commenting on the sheer range of content on offer at the SS20 edition, Paula Shorah, Technical Manager at Bravissimo told us, "the content I've seen so far is really good, especially if you're looking to gain knowledge of the fashion industry". It's not the content alone that caught Paula's eye, though; it's also about the discussions it sparks amongst colleagues. Paula said, "it's interesting to hear other brands and suppliers asking questions as well".
And, if there's one thing that Pure London sets out to do, it's just that; spark conversations. The Power of One campaign made it's return to the show, as the team renewed their pledge to create a single-use plastic-free show. Designed to get people talking on issues that really matter, we hope that the Power of One will encourage people to reclaim their voice and take a stand where sustainability in the fashion industry is concerned.
For many of Pure London's visitors, both old and new, each season is about discovery. Buyers like Charlotte Sekund, from Swedish clothing store Jacobssons Damkonfektion, commented on the variety of brands showing at the SS20 edition; "I have been coming to Pure for four years now. I always see the fashion shows as they're really exciting, and it's nice to see a mix of brands from all over the world". Emily Dudson, buyer at WoolOvers agreed, saying "it's very insightful to have so many brands in one place!"
If you didn't manage to make it, or just want to live it all over again, make sure you catch up on the speaker highlights and catwalk trends featured in this month's newsletter!
Pure London SS20 might be done and dusted, but it's never too early to start planning for the AW20/21 edition. Get the 9th – 11th February 2020 in your diary now for another celebration of fashion in the style capital of the world. To tide you over until then, I'll here to bring you all the latest in fashion, retail and beyond, keeping you up to date with the industry latest.
Continue reading Newsletter #10
About Pure London and Pure Origin
We are the
UK's number one leading fashion trade event
that brings together the entire fashion supply chain, right the way from fibre through to finished ready to wear garments.
No other UK show offers sourcing and brands together, making Pure London and Pure Origin the only event to cater to all your fashion buying needs under one central London roof.
Location & Opening times:
Olympia London,
Hammersmith Road,
Kensington,
London W14 8UX
Sunday 9th February 2020, 09.30 - 18.00
Monday 10th February 2020, 09.30 - 18.00
Tuesday 11th February 2020, 09.30 - 16.00