03 Sep 2019
How to: start a conscious clothing line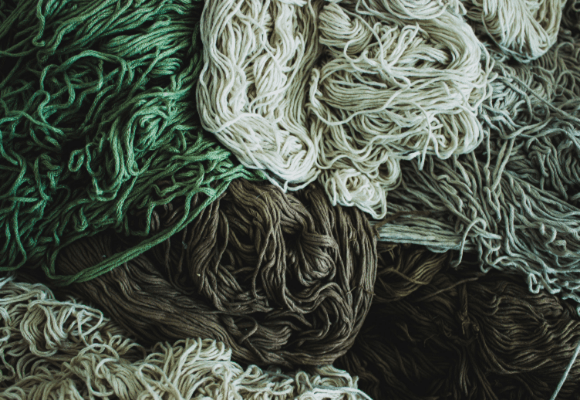 We all know that being green is in right now. From ethical manufacture to eco-friendly fabrics, there's all sorts of conversations going on in the fashion industry about the pros and cons of a more sustainable approach to style. But, whilst we've got the who, what and why, the how always seems to be forgotten. And that's what we're here to talk about today…
WHAT IS CONSCIOUS FASHION?
Before we start on the how, it's worth recapping the what. Conscious fashion is a broad and complex term, but it boils down to a few simple things: eco-friendly production methods; renewable, ethically sourced, recycled or biodegradable fabrics; and fair trade and working conditions for the people involved. To help you make sense of what ethical fashion and sustainability is, I've broken it all down here.
THE STEPS TO CONSCIOUSNESS
Step 1: defining your values
Obviously the first step you need to take is to decide which form of ethics or sustainability is viable for you and what issues really matter; trying to be 100% conscious is both impossible and could lead to your brand falling victim to greenwashing.
Think carefully about what sustainability actually means to you and to your brand story. As a sustainable clothing line, this will make up an important part of your messaging and identity so being clear and consistent is integral to building an authentic, lasting brand.
It's at this point that you'll also want to start researching and defining your target market. Who are they? What does being conscious mean to them? Not only will this help you to focus on the truly important elements of your design and production elements, it will also mean your brand will resonate with that all-important audience.
Step 2: find your niche
When it comes to conscious fashion, it's always better to do one thing really well, rather than trying to do everything; especially when your business is just finding its feet. Make like Christopher Raeburn or Katherine Hamnett and channel your creativity into one product that your brand will become known for. Once you've established a reputation as THE go-to conscious clothing line for denim, for example, then you can start to broaden your horizons.
Step 3: create a conscious supply chain
In an ideal world, we would all have the capabilities and funds to have a totally conscious supply chain. But, whilst there's so much progress being made in bringing eco-materials and manufacturing solutions to the mainstream, most new designers will have to content themselves with choosing one or two elements. For example, if your story is all about bringing fair trade and working conditions to third world countries, you may have to compromise on some of the materials you're using, to ensure that you're still breaking even. This all comes back to understanding what consciousness means to your brand; that's not to say you can't make improvements to your supply chain once you've found your feet.
If it's green materials you're focusing on, you'll want to consider the provenance, the cost and the environmental and ethical impact that producing the materials might have.
Equally, partnering with the right manufacturer is key to any ethical goals you're striving to achieve. Whether you're looking to take production overseas or keep it close to home, you'll need to be sure that factories are up to standard when it comes to working conditions and ensure that individuals are fairly paid and treated.
Trade shows like Pure Origin are must-visits as they allow you to meet the suppliers one on one and get the answers to the all-important questions so that you can keep your supply chain transparent and in line with your brand story from concept through to completion.
Step 4: keep your conscious values at the core
Creating a conscious fashion line isn't just about creating "green" garments. To be truly authentic, your conscious commitment needs to run all the way through your business. Whether it's using eco-friendly lightbulbs in your office or shop, banning single use plastics or recycling fabric cut offs, there is so much more to conscious fashion than the clothes themselves.
Many of the best known conscious clothing brands also align themselves with causes close to their core values. As today's shoppers get wise to greenwashing and marketing ploys, giving something back to a cause that aligns with your brand's and customers' values will set your business apart from less authentic labels and help you to build affinity with customers.
Consumer demand for conscious fashion is growing in line with increasing awareness of the industry's effect on people and planet. Whilst the road to a more responsible fashion industry may seem like a long one, both emerging and established designers can take some of these steps on board to help reduce the negative impact of fashion. Pure London and Pure Origin are a collective of likeminded brands, buyers and businesses looking to make a difference in the industry.
Join us for the AW20/21 edition on 9th -11th February 2020 and be inspired by the latest conscious collections, exciting talks from industry-leading speakers and key networking opportunities.
This post was created by Pure London editor Emma Wilder
---
About Pure London and Pure Origin
We are the UK's number one leading fashion trade event that brings together the entire fashion supply chain, right the way from fibre through to finished ready to wear garments.
No other UK show offers sourcing and brands together, making Pure London and Pure Origin the only event to cater to all your fashion buying needs under one central London roof.
Location & Opening times:
Olympia London,
Hammersmith Road,
Kensington,
London W14 8UX
-
Sunday 9th February 2020, 09.30 - 18.00
Monday 10th February 2020, 09.30 - 18.00
Tuesday 11th February 2020, 09.30 - 16.00