04 Sep 2019
The lowdown on sustainable footwear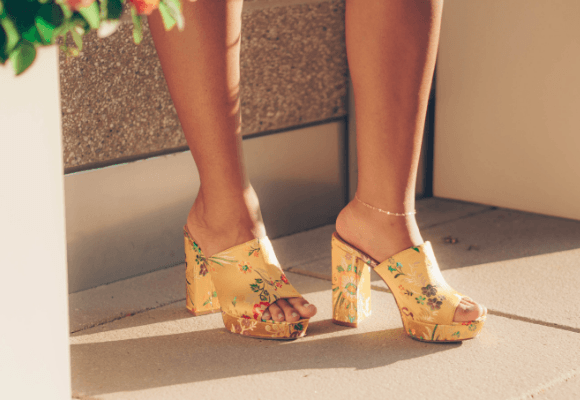 From vegan soles to coffee ground trainers, footwear is well and truly at the forefront of the sustainable fashion revolution. Since there's so much being done to keep our feet earth-friendly, I decided to investigate the ways that brands and designers are making strides (pun intended) in the sustainable shoe sphere.
The Sustainable Sneaker
The rise of athleisure has heralded the reign of the sports shoe; no longer the unfashionable "dad trainer", sports shoes have become a staple in the wardrobes of just about everyone. So now that sustainability is creeping up the consumer agenda, it's only natural that fashion lovers are looking for greener versions of their favourite footwear.
Scandi brand Rens launched their crowdfunding campaign in 2017, with their fully waterproof trainer made from recycled plastic bottles and coffee grounds. They're patented technology combines the recycled plastic with the coffee grounds to create a stretchy "coffee yarn" that can then be used to knit the shoe.
Meanwhile, sports brands like Adidas and Nike are taking a circular approach to footwear. At the beginning of this month, Adidas announced its vision for their future footwear – the Adidas Futurecraft Loop – with a new commitment to using recycled and recyclable materials, whilst Nike have launched their Nike Grind range following a similar concept.
And, how could we leave out Allbirds? The self-named "world's most comfortable shoe" uses all-natural materials including Merino wool, TENCEL tree fibre, sugar cane and Trino yarn (made from eucalyptus fibres).
The Vegan Shoe
Cruelty-free fashion is in right now, and ethically sourced leather and leather alternatives are becoming a more common sight in footwear. But it's not just the ethical question that's turning more brands to vegan leather replacements, as concerns about the environmental impact of the leather tanning process gain momentum.
Many top designers, including the likes of Chanel, are choosing natural leather alternatives, like pineapple leather or Pinatex, for footwear, as well as other leather fashion items. Other alternatives include Pirarucu leather, made from fish scales, and Vegea which is derived from wine pulp.
Vegan leather is enjoying success in the US (which usual signals popularity in the rest of the world in the near future) and, according to a report conducted by WGSN, the online availability of vegan leather products doubled in the UK in the first half of the year. Considering how much is going on in the footwear industry right now, it's not surprising that the consumer demand for these vegan shoes is only growing.
So, who's getting involved? Footwear giant Gola have just received accreditation from the Vegan Society for their Coaster and Comet lines, whilst Dr Martens and Birkenstock have been on the vegan leather train since 2011 and 2017 respectively.
With new developments in sustainable footwear happening every day, now's an exciting time for the industry. Keep up to date with the latest news on the Pure London blog and join us at Olympia London from 9th – 11th February 2020 to discover the next big thing in conscious fashion.
This post was created by Pure London editor Emma Wilder
Source: "Turning coffee into sneakers: Talking all things footwear with sustainable sneaker-heads Rens" interview by Deborah Williams, Retail Insight Network
Source: "Here's why sneakers are leading the charge to make clothes more sustainable" article by Dennis Green, Business Insider
Source: "Your New Favorite Vegan Heels Have Arrived" article by Rachel Marlowe, Vogue
Source: "Chanel is Selling a Hat Made From Pineapple 'Leather'" article by Jasmin Malik Chua, Sourcing Journal
Source: "What Is Vegan Leather, and Should You Be Wearing It?" article by Denitsa Tsekova, Bloomberg Businessweek
---
About Pure London and Pure Origin
We are the UK's number one leading fashion trade event that brings together the entire fashion supply chain, right the way from fibre through to finished ready to wear garments.
No other UK show offers sourcing and brands together, making Pure London and Pure Origin the only event to cater to all your fashion buying needs under one central London roof.
Location & Opening times:
Olympia London,
Hammersmith Road,
Kensington,
London W14 8UX
-
Sunday 9th February 2020, 09.30 - 18.00
Monday 10th February 2020, 09.30 - 18.00
Tuesday 11th February 2020, 09.30 - 16.00