20 Aug 2018
Newsletter #3: Sustainability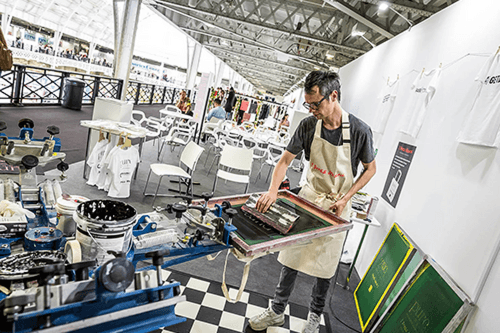 Welcome to Pure London's newsletter #3.
In this edition, I'll be talking you through some of my top highlights that the SS19 show had to offer (I might end up talking about the whole show, because you know, it was all a highlight).
It's been a whirlwind of emotions, and I'm not sure what has made me feel more alive: Maya Jama's blonde surprise or sitting front row as the coolest students in the UK came together at the Graduate Fashion Week catwalk?
Or perhaps it was the focus on sustainability throughout the whole show that made me warm inside and seeing everyone engaging and loving the introduction of our Conscious edit to our Power of One campaign and all our future-focused seminar sessions.
I'm excited to show you what's in store next, but for now – sit back, relax and enjoy the read.

Nelly Gergi
Content Editor
Sustainability is the new black
Earlier this year, we launched our new Conscious sector as a nod to the future of sustainable fashion. Having brands such as People Tree, Zola Amour and Mud Jeans joining us for the first edition, we also partnered with Common Objective to ensure we deliver the best possible insight and brands and begin our journey towards a more sustainable direction.
So whether you were new to sustainable processes, wanted to integrate it into your business model or just wanted to feed your knowledge a bit more, the Pure London SS19 show had it all – and we had some of the biggest voices in the industry to help us.
Taking to the stage, our keynote speaker Caryn Franklin hosted a panel discussion exploring ethics and sustainability in fashion and was joined by Orsola de Castro from Fashion Revolution and Natalie Lee from stylemesunday.com. Common Objective's CEO Tamsin Lejeune spoke about how the sustainable sector is growing and Hilary Alexander's panel addressed the future of sustainable fashion design together with Michael Beutler from Kering, Scarlett Curtis from Sunday Times, Muchaneta Kapfunde from FashNerd.com and Aurelie Fontan from Edinburgh College of Art.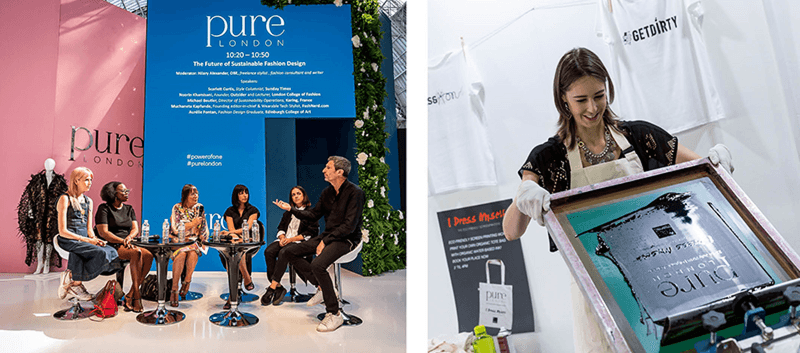 In another corner, our Power of One campaign station invited visitors and exhibitors alike to get their hands dirty trying I Dress Myself's toxic-free printing, getting a t-shirt of their own, pledging to do better and donating to the charity Labour Behind The Label. The Power of One campaign launched a few months ago, set to encourage small but powerful changes towards a more sustainable fashion industry, and it was exciting to see it all come to life at the Pure London SS19 show.
Safe to say we had a lot going on, everywhere.
But whilst sustainability does seem to be the biggest trend of 2018, the aim is to move away from it being a trend and make it as much of a staple piece as a white t-shirt (in organic cotton made ethically in a safe and secure environment, of course), and as Orsola de Castro perfectly said, "We need more disruption, change, creativity and common sense to finally achieve sustainability and transparency at a grand scale."
Continue reading Newsletter #3
About Pure London and Pure Origin
We are the
UK's number one leading fashion trade event
that brings together the entire fashion supply chain, right the way from fibre through to finished ready to wear garments.
No other UK show offers sourcing and brands together, making Pure London and Pure Origin the only event to cater to all your fashion buying needs under one central London roof.
Location & Opening times:
Olympia London,
Hammersmith Road,
Kensington,
London W14 8UX
Sunday 10 February 2019, 09.30 - 18.00
Monday 11 February 2019, 09.30 - 18.00
Tuesday 12 February 2019, 09.30 - 16.00