09 Apr 2019
Newsletter #6: Living Coral on runways and in wardrobes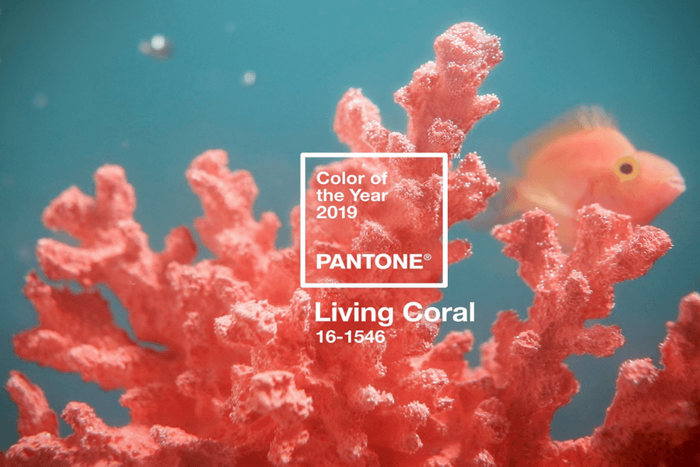 Spring is here and it's bringing colour with it! That's why it only made sense to me to bring some colour to the April newsletter.
Off the back of her appearance at Pure London last season, I've been working with Abigail Bruce, Pantone's Marketing Director, to bring you the latest insights into colour trends for this season and beyond, plus an exclusive Pure London X Pantone offer from the colour experts at the Pantone Color Institute.
In this newsletter, I'll be bringing you all the essential insights from Abigail's talk, a look at the Pantone Colour of the Year 2019 as it's appearing in fashion right now as well as exploring what really goes into the colour forecasting process.
That's not all though. In Pure Origin news, we're delighted to welcome Wet Green to the exhibitor line up. I sat down with Thomas Lamparter to talk their new sustainable leather tanning agent, Olivenleder, which they'll be bringing to the SS20 edition.
Enjoy!
Emma Wilder
Content Editor
LIVING CORAL IN THE REAL WORLD…
Just before Pure London AW19/20, I sat down with Abigail to ask her all about PANTONE 16-1546 Living Coral and the thinking behind it. Now, I want to take a look at just how it's been used across the industry on the runway and on the high street.
High Fashion
Coral isn't news on catwalks and the shade has featured heavily in collections since the end of last year. London, New York and Paris all saw Living Coral featured heavily on runways at their latest Fashion Weeks and its use in collections was not limited to gender. What might be considered a traditionally "feminine" colour leapt across the boundaries, featuring just as heavily in menswear collections as in women's.
From head to toe coral to literal splashes of colour (in the form of body paint) menswear got a bright and bold makeover in Alexander McQueen's menswear collection this season. Combined with other prevalent menswear trends, like the belted trench and utilitarian elements, the label gave Living Coral an urban update on the latest Spring/ Summer catwalks.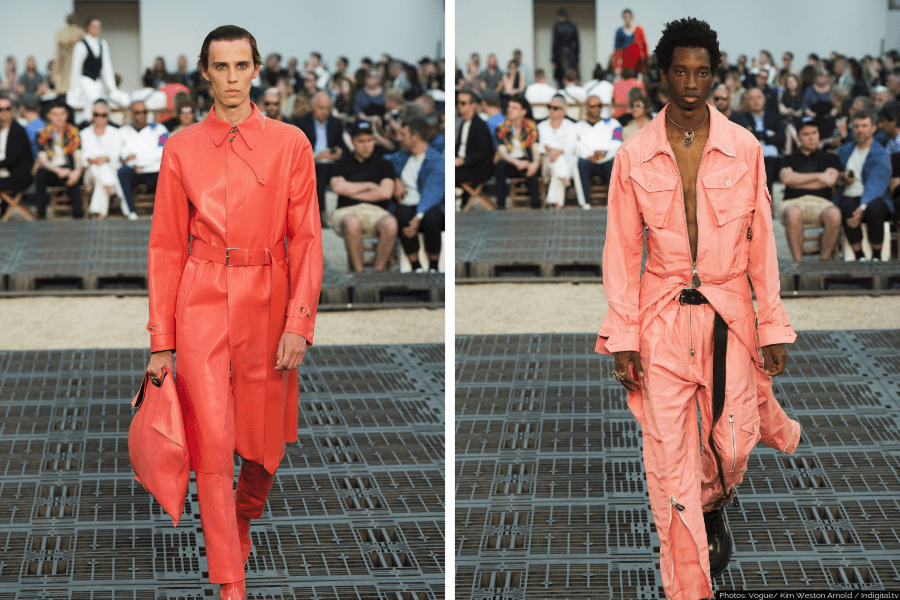 Head to toe coral wasn't just reserved for the menswear catwalks, though. Temperley London went for a decidedly more feminine approach to styling the colour with soft tailoring and flowing fabrics reinjecting whimsy into coral.
Meanwhile, the natural element was played up in coral-loving Alexander McQueen's womenswear offering, as statement flowers and cocoon-like shapes took to the runways of the fashion capitals of the world.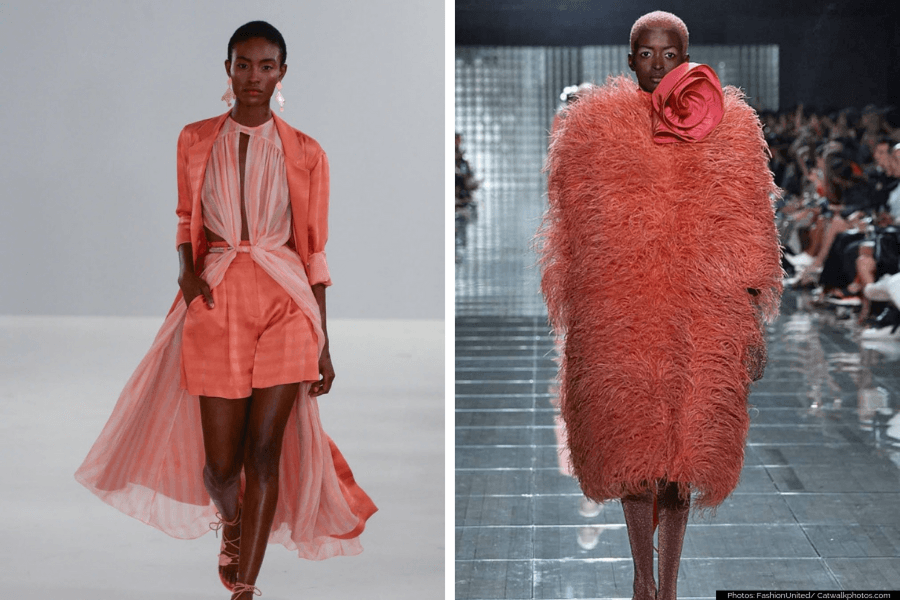 Street Style
Since it's featured so heavily on catwalks since 2018, it's no surprise to see Living Coral creeping into the mainstream too. Taking over from its pastel cousin, Millennial Pink, Living Coral is not only becoming an outfit staple, but a hair and make-up one too.
Chosen in no small part for its digital appeal, Living Coral no doubt owes much of its popularity amongst the fashion community to Instagram. Providing a lively yet delicate tone, coral colours are the perfect fit for the curated Instagram feeds of fashion influencers everywhere.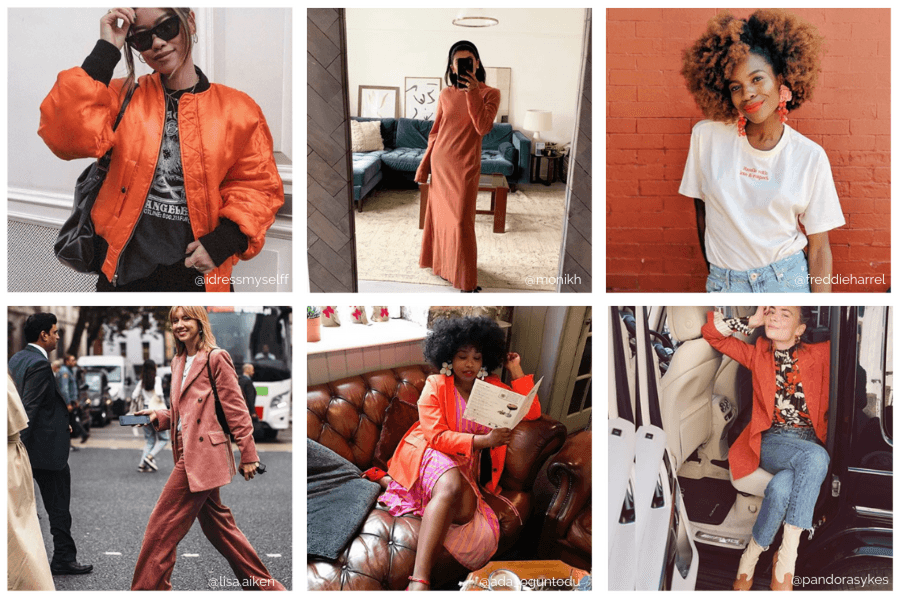 As Instagrammers and celebrities continue to adopt the colour, we're starting to see just how versatile coral can be. It's delicate enough to be worn from head to toe without being overwhelming but it's also bright enough to be a statement colour to be added to one of Pantone's core neutrals. In short, a perfect spring/ summer colour, but one that will also figure into the colour stories we see on the catwalk and on the streets for AW 20/21.
Discover the latest colour trends and more at Pure London SS20, 21st – 23rd July.
Don't forget to use your exclusive Pantone promotion code. Go to the Pantone UK e-store to redeem 10% off on a range of Pantone products. Simply enter code PURELONDON19 at the checkout to benefit from this offer*.
*Readers are entitled to a 10% Discount on the Pantone UK site. Offer valid from 4th-25th April 2019. There is no minimum spend, but this offer cannot be used with any other offer. Free shipping is available for all orders over £99. Trend forecasting books are excluded from the offer.

Continue reading Newsletter #6
About Pure London and Pure Origin
We are the
UK's number one leading fashion trade
event
that brings together the entire fashion supply chain, right the way from fibre through to finished ready to wear garments.
No other UK show offers sourcing and brands together, making Pure London and Pure Origin the only event to cater to all your fashion buying needs under one central London roof.
Location & Opening times:
Olympia London,
Hammersmith Road,
Kensington,
London W14 8UX
Sunday 10 February 2019, 09.30 - 18.00
Monday 11 February 2019, 09.30 - 18.00
Tuesday 12 February 2019, 09.30 - 16.00