16 May 2019
Newsletter #7: Menswear trends for SS20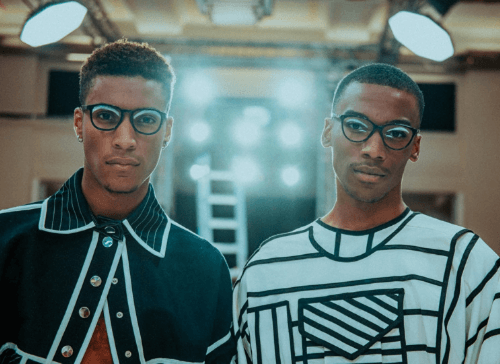 It's no secret that womenswear gets all the press where fashion is concerned. So, in this month's newsletter, let's hear it for the boys.
I'll be bringing you a sneak peek at some of the exciting brands to watch out for at Pure London SS20; make sure you sharpie them into your show schedule!
To continue the celebration of menswear, I'll be taking you through some of the key trends to look for in SS20 men's collections, plus, a quickfire tour of just a few reasons why London is the true home of men's fashion.
So, sit back, relax and enjoy the May edition of the Pure London newsletter.
Emma Wilder
Content Editor
THE NEXT BIG THING IN MENSWEAR
The most exciting thing about men's fashion right now is that it's so unpredictable. As our definitions of gender and masculinity change and designer's get more and more creative, new and unexpected shapes, patterns, colours and fabrics are making their way into the men's fashion mainstream. With Pure London SS20 just around the corner, it seemed only natural to explore some of the trends that we can expect to see at July's edition of Pure Man.
The colours
SS20 is the season of the pastel. Expect to see shades like millennial pink, neo mint and whitened yellows move across from their traditionally feminine domain. Providing a subtle yet vibrant alternative to neons, the likes of Louis Vuitton and Fendi are already on board.
To juxtapose these summer brights, expect to see navy, burgundy and dark green bringing depth to collections, as a new alternative to black. Meanwhile, menswear core neutrals are set to get warmer, with yellow and orange undertones allowing for vibrant ensembles around these shades.
The prints
Menswear prints and patterns for the SS20 season are anything but subtle. From Hawaiian florals, to geometric digital designs, brace yourself for boldness in SS20 collections. With fashion acting as a conduit for culture as a whole, we'll also be seeing tribal motifs, mixed with modern streetwear patterns combining for new and fresh styles.
The fabrics
Much like their colour counterparts, materials will be crossing the gender boundaries in SS20's collections. Think sheer fabrics, lace and organza, much like Harry Styles' Met Gala 2019 look.
The shapes
With athleisure and streetwear still very much in style, menswear shapes are set to be slouchy for SS20. Alongside urban looks, which will remain popular within the fast fashion world, tailoring is likely to become less defined and looser, with layering becoming key.
Discover the trends for SS20 and more at Pure London this July. The SS20 edition will return to Olympia London on 21st – 23rd July bringing the Festival of Fashion back to the UK capital.
Source: "Spring summer 2020 men's colour themes" article by FashionUnited
Continue reading Newsletter #7
About Pure London and Pure Origin
We are the
UK's number one leading fashion trade event
that brings together the entire fashion supply chain, right the way from fibre through to finished ready to wear garments.
No other UK show offers sourcing and brands together, making Pure London and Pure Origin the only event to cater to all your fashion buying needs under one central London roof.
Location & Opening times:
Olympia London,
Hammersmith Road,
Kensington,
London W14 8UX
Sunday 10 February 2019, 09.30 - 18.00
Monday 11 February 2019, 09.30 - 18.00
Tuesday 12 February 2019, 09.30 - 16.00