17 Jun 2019
Newsletter #8: Future fabrics: innovations in textiles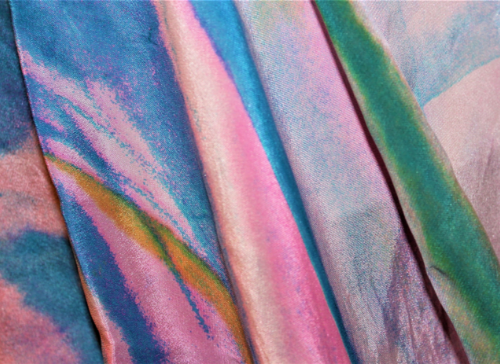 Newsletter number eight is already on us and this month, I wanted to give Pure Origin the love and attention it deserves. I'll be taking a look inside the textiles and sourcing industry this month, to give you a taste of what's to come at Pure Origin in July.
I'll be bringing you some of the key trends you'll be seeing at July's edition of Pure Origin, based on information provided by our trend partners Unique Style Platform. See what's in store for AW20/21 and get one step ahead in your design process.
Hear from Pure Origin exhibitor Interloop on all things fabric, fibre and apparel, and take a look at how they're getting sustainable.
Finally, I'll be taking a trip forward in time, to bring you some of the latest developments and innovations in fabric, giving you a look into the future of fashion.
So, sit back, relax and enjoy a sneak peek into the world of Pure Origin!
Emma Wilder
Content Editor
FIBRES AND FABRICS FOR PEOPLE AND PLANET
When it comes to the latest developments in textiles, there's one word that's on the tip of the industry's tongue; sustainability. I know it's been talked about a lot, but there is good reason for this. The global textiles industry is one of the world's biggest polluters, with 20% of all water pollution caused by textile treatment and dyeing, 10% of greenhouse gas emission from the manufacture of textiles and 12.8 million tons of textiles and fabrics discarded per year. Horrifying though these stats may be, there are some innovative designers out there doing incredible things with alternative and green materials and tech-based fabrics.
Natural alternatives
Pineapple leaves, wine pulp, and fish scales. None of these might scream "fashion" to you, but plenty of designers have been jumping on the bandwagon and getting creative with their sourcing. Using natural resources (responsibly, of course) and by-products from other industries, a number of sustainable alternatives are already on the radar:
Pinatex – this is a form of sustainable leather made from recycled pineapple leaves. It's quite hardy and can be used for clothing and upholstery.
Pirarucu leather – otherwise known as fish scales. This is a traditional material that has been used by Amazonian tribes for centuries. It is a by product of the pirarucu fish, which is caught primarily for its meat. It is a softer, thinner leather and is mainly used for bags, shoes and accessories.
Vegea – made from wine pulp, a by-product of wine production, vegea is a vegan leather alternative which is mainly used to create accessories.
Barktex – this is a fleece made from the bark of fig trees. It's a low impact material that has great insulation properties and can be used n thermal clothing.
Lyocell – an alternative to the water-reliant cotton, lyocell is made from wood chips and, like cotton, is incredibly versatile.
Smart textiles
It's not just for sustainability's sake that fabrics are developing at such an impressive rate, though. Scientists at the prestigious MIT in Boston have developed a way to weave technology into the fibres of clothing, and brands like New Balance and Bose are already looking to design new generations of "smart clothes".
It might sound like tech for tech's sake, but these new smart fabrics are already being considered in the business and educational worlds. For example, at the latest Augmented World Expo this year, conference attendees could be identified using an app on their smartphone which connected to the fibres in the bags attendees were given. Giving more examples of how this technology could be applied to the real world, the Advanced Functional Fabrics of America organisation shared the following examples:
Following developments in self-driving cars, clothing and cars could communicate to ensure that the cars' networks can identify people more accurately, so avoiding collisions.
Clothing that could be an aid for blind people, but converting light into energy to produce vibrations to give directions.
This also ties in with the current market demand for personalisation. Clothing can be "programmed" to share as much or as little information as the wearer wants, and can function according to their personal needs.
With these developments already underway, there's definitely exciting things to come for fashion, and it might well be sooner than we think.
Interested in finding out more about the textiles of tomorrow? Register to attend Pure Origin on 21st – 23rd July for your free ticket to the latest industry insights and more.
Register today APPLY FOR A STAND
Source: "Leather from fish scales? Textile makers embrace greener materials" article by Yasmin Jones-Henry, Financial Times
Source: "Fashion industry waste statistics" article by Edge Fashion Intelligence
Source: "Various pollutants released into environment by textile industry" article by Fibre2Fashion.com
Source: "Fabrics poised to become the new software" article by Zach Winn, MIT News Office
Source: "The augmented fabric at AWE2019" article by Ken Pyle, Viodi


Continue reading Newsletter #8
About Pure London and Pure Origin
We are the
UK's number one leading fashion trade event
that brings together the entire fashion supply chain, right the way from fibre through to finished ready to wear garments.
No other UK show offers sourcing and brands together, making Pure London and Pure Origin the only event to cater to all your fashion buying needs under one central London roof.
Location & Opening times:
Olympia London,
Hammersmith Road,
Kensington,
London W14 8UX
Sunday 21 July 2019, 09.30 - 18.00
Monday 22 July 2019, 09.30 - 18.00
Tuesday 23 July 2019, 09.30 - 16.00