13 Jul 2019
Newsletter #9 | Meet our keynote: in conversation with Patrick Grant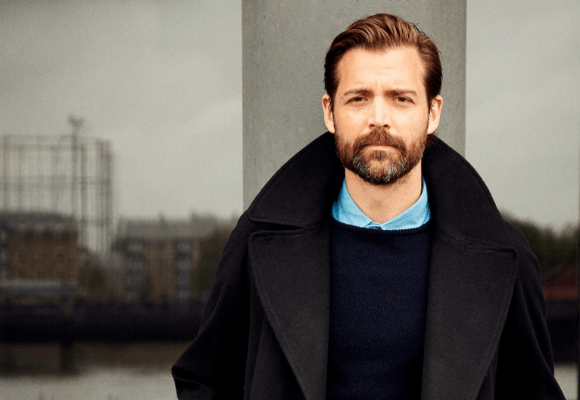 With Pure London just one week away, I'm getting into the spirit and couldn't resist bringing you a sneak peek into the most exciting things to come at this season's show.
We've gone above and beyond this season, with not one, but two keynotes. I sat down with both Patrick Grant, entrepreneur and menswear designer and Brigitte Stepputtis, Head of Couture at Vivienne Westwood, to find out more about their fascinating careers, where they get their inspiration and what we can expect from them when they take to the Pure London Main Stage this season.
As ever, Pure London is dedicated to a sustainable future for fashion, and the Power of One will be returning to the show this season. Find out more about what we're doing and how you can get involved.
In other exciting news, the Turkish embassy is supporting Pure London once again and we're delighted to be welcoming some of the most exciting Turkish designers to the show floor. Look out for the Turkish lookbook and get inspired.
Last, but by no means least, it's time to introduce some of Pure London's key partners. TheIndustry.fashion and Down Your High Street will both be making appearances on various stages throughout the show to share their expertise and join the conversation.
As anyone who's attended Pure London and Pure Origin before will know, this newsletter is just the tip of the iceberg. Join me and the Pure London team this season at the show and find out for yourself why it's called the Festival of Fashion!
See you there!
Emma Wilder
Content Editor
GETTING TO KNOW PATRICK GRANT
If there's one word I could use to sum up Pure London SS20 keynote Patrick Grant, it would be "multi-talented". Throughout his career in fashion, Patrick has collected the credentials of entrepreneur, leading menswear designer, tailor, TV personality and saviour of British businesses. The face of BBC's The Great British Sewing Bee will be taking to the Pure London Main Stage on Sunday to bring us advice and insight from his extensive experience. Ahead of the show, I caught up with Patrick to find out more.
Can you tell me a little more about your career and your background in fashion? How did you get into the industry?
For as long as I can remember I have loved fashion, I have always loved beautifully made things, and I've also always loved the stories of the great British brands. I studied Materials Science at university and worked in engineering for a decade and it wasn't until by total chance I found out that Norton & Sons was for sale that I even thought about working in clothing. But it seemed to good to be true and I took the plunge and almost 14 years it seems to have worked out ok.
What interested you in bringing brands like E. Tautz and Norton & Sons back into business?
Breathing life back into these brands has certainly been a huge challenge and a great thrill. I think both are wonderful brands, and both make clothing of exceptional quality and provenance, working with brilliant factories and mills across the UK which makes me immensely proud.
You are heavily involved in the Future Textiles charity – can you share more about what the charity does and why their work is so important?
If we are to improve fashion, and improve our society, I believe we need to build a modern sustainable clothing and textile manufacturing industry here in the UK. Future Textiles is an important part of this mission, helping to excite young people about making clothes and about the opportunities a career in textiles could bring. It also helps teach them about the clothes they wear and where they come from.
Who or what is your biggest design inspiration?
I take inspiration from everywhere and everything. Bus seats, scarecrows, 16th century theatre, but a lot from the arts. British documentary photographers, such as John Bulmer, Peter Mitchell, or Martin Parr, but also painters and sculptors such as Richard Serra, one collection was inspired by the Terry Street poems of a British poet called Douglas Dunn. Because every collection is a story, and it can start anywhere.
What will you be speaking about at Pure London this season?
Fashion faces so many huge issues right now; overconsumption, unsustainable production methods, pollution, waste, lack of recyclability, unethical labour practices. It's like we've wound the clock back 200 years. I'll probably be touching on all of this.
Finally, why do you think London is such an important fashion destination?
London is the most multicultural city in the world, and its fashion has always reflected that. There is nowhere where the style on the street is so vibrant and innovative and all encompassing. And UK has given birth to many of the biggest movements in fashion, from punk to new romantics and is home to many of the finest clothing and textile manufacturers on the planet.
Don't miss Patrick on the Pure London Main Stage on Sunday 21st July at 3:20. See the full seminar programme here.
Continue reading Newsletter #9
About Pure London and Pure Origin
We are the UK's number one leading fashion trade event that brings together the entire fashion supply chain, right the way from fibre through to finished ready to wear garments.
No other UK show offers sourcing and brands together, making Pure London and Pure Origin the only event to cater to all your fashion buying needs under one central London roof.
Location & Opening times:
Olympia London,
Hammersmith Road,
Kensington,
London W14 8UX
Sunday 21 July 2019, 09.30 - 18.00
Monday 22 July 2019, 09.30 - 18.00
Tuesday 23 July 2019, 09.30 - 16.00