13 Jul 2019
Newsletter #9 | New season, new pledges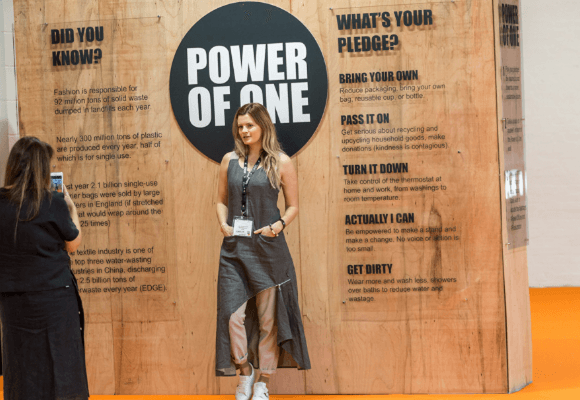 With Pure London just one week away, I'm getting into the spirit and couldn't resist bringing you a sneak peek into the most exciting things to come at this season's show.
We've gone above and beyond this season, with not one, but two keynotes. I sat down with both Patrick Grant, entrepreneur and menswear designer and Brigitte Stepputtis, Head of Couture at Vivienne Westwood, to find out more about their fascinating careers, where they get their inspiration and what we can expect from them when they take to the Pure London Main Stage this season.
As ever, Pure London is dedicated to a sustainable future for fashion, and the Power of One will be returning to the show this season. Find out more about what we're doing and how you can get involved.
In other exciting news, the Turkish embassy is supporting Pure London once again and we're delighted to be welcoming some of the most exciting Turkish designers to the show floor. Look out for the Turkish lookbook and get inspired.
Last, but by no means least, it's time to introduce some of Pure London's key partners. TheIndustry.fashion and Down Your High Street will both be making appearances on various stages throughout the show to share their expertise and join the conversation.
As anyone who's attended Pure London and Pure Origin before will know, this newsletter is just the tip of the iceberg. Join me and the Pure London team this season at the show and find out for yourself why it's called the Festival of Fashion!
See you there!
Emma Wilder
Content Editor
ONE SIMPLE CHANGE: THE POWER OF ONE
One simple change can make a big difference. That is the thinking behind Pure London's green campaign, the Power of One.
Guided by the UN and Conscious Fashion Campaign's Global goals, we're encouraging the industry to take small yet powerful steps towards a sustainable future for fashion and beyond.
Our goal is to give you, our visitors and exhibitors, the power to speak up and focus on making changes that really matter.
Through the Power of One campaign, we're creating a platform for like-minded individuals to spark conversations and take action, one step (and one person) at a time.
So what's going on this season?
Plastic NOT fantastic
Continuing on with our AW19/20 pledge, we're cutting down on single use plastics on the show floor. We're cutting out plastic bottles; you won't see our team or our speakers using anything but reusable water bottles (and if you do, tell us!).
For anyone who is using single use plastics, we'll have recycling points around the show floor, to ensure out plastic waste is kept to an absolute minimum.
There'll also be water stations on site, so you won't need to buy any water whilst you're with us. Saving money and saving the planet – it's a win-win.
Take a sustainable selfie
The Power of One wall is back for SS20! Positioned at the heart of the show, the Power of One wall is the ideal spot for an Insta-perfect selfie, as well as a communal place for us all to make a pledge. Share your Power of One selfie using #PowerOfOne and take your first step to sustainability.
Get the facts
Never one to waste space, we're even making our benches eco-friendly. The benches, which line the walkway to the Main Stage, will all have their own special sustainability fact. Take a break and get educated on how you can make a difference!
The Conscious Trail
Pure Conscious might be small, but it's perfectly formed. In partnership with Common Objective and Conscious Fashion Campaign, the sector is designed to showcase the most forward-thinking ethical and eco-conscious brands out there.
Common Objective will be guiding a tour around Pure Conscious to familiarise you with the names you need to know.
Hear from the experts
We pride ourselves on our industry leading content programme and our offering on sustainable and ethical fashion is as strong as ever. Hear the experts' tips on running a sustainable business, developing a green supply chain and more on the Main, Future and Origin stages, across all three days of the show. Pinpoint the talks you want to attend here.
Join the Power of One at Pure London SS20. From 21st – 23rd July, the iconic Olympia London will host the UK's leading fashion trade show and unmissable Festival of Fashion.
Continue reading Newsletter #9
About Pure London and Pure Origin
We are the
UK's number one leading fashion trade event
that brings together the entire fashion supply chain, right the way from fibre through to finished ready to wear garments.
No other UK show offers sourcing and brands together, making Pure London and Pure Origin the only event to cater to all your fashion buying needs under one central London roof.
Location & Opening times:
Olympia London,
Hammersmith Road,
Kensington,
London W14 8UX
Sunday 21 July 2019, 09.30 - 18.00
Monday 22 July 2019, 09.30 - 18.00
Tuesday 23 July 2019, 09.30 - 16.00