07 Sep 2018
Pure london launches its new campaign manifesto: 'redefining disruption'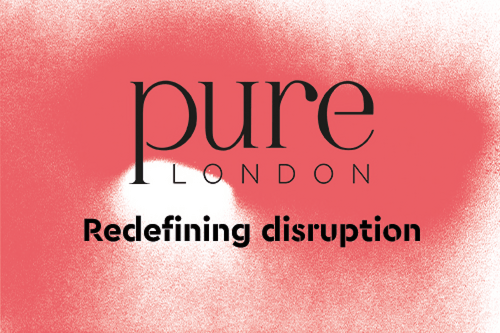 Bold in its approach and unapologetic in its creativity, in 2019 Pure London's Festival of Fashion will redefine disruption for the fashion community. In this time of uncertainty, Pure London's aim is to act as an agent of change.
With an international audience the three-day seasonal show will strive to help the industry navigate global issues in the fashion industry, including the storm that is Brexit, by providing a platform to answer the key questions many are too afraid to ask and by pursuing the following manifesto:
+ Be Bold
+ Be Brave
+ Take a Stand
+ Embrace the change
+ Challenge the status quo
+ Join the Power of One
Bold creative campaign imagery featuring graffiti spray paint effects are inspired by the overarching idea of disruption.
Following the success of the Power on One pledge campaign launched during the July 18 show to further the UN Global Goals for Sustainable Development, Pure London will continue to evolve and build on the progress made towards creating a more sustainable future for fashion, driving the industry to continue to make their pledges and join the Power of One campaign.
Further details are currently under wraps but Pure London can reveal that the February 19 show will feature a graffiti-style pledge wall for visitors to interact with.
Under new ownership of the ITE Group, plans continue to create a unified Festival of Fashion across London, alongside Scoop and offering collaborative solutions to benefit visitors to both shows.
At Pure London, visitors will continue to see over 700 women's and menswear brands offering Ready to Wear and Premium collections, Footwear and Accessories as well as the recently re-branded Gen Z section. Previously known as Spirit and re-named to reflect this transformative growth sector, Gen Z will encapsulate the energy and mood of young fashion and is set to burst with of-the-minute, trend-led, street style and unisex collections.
Julie Driscoll, Managing Director of Pure London and Pure Origin says: "2019 looks set to continue the uneasy balance between political and economic uncertainty alongside inspiring creativity, innovation and the mindset to make real changes that last, advocate better practice in the fashion industry, and deliver a better world for future generations."
"We have some exciting plans afoot for Pure London and Pure Origin and look forward to sharing them with you soon."
---
About Pure London and Pure Origin
We are the
UK's number one leading fashion
trade event that brings together the entire fashion supply chain, right the way from fibre through to finished ready to wear garments.
No other UK show offers sourcing and brands together, making Pure London and Pure Origin the only event to cater to all your fashion buying needs under one central London roof.
Location & Opening times:
Olympia London,
Hammersmith Road,
Kensington,
London W14 8UX
Sunday 10 February 2019, 09.30 - 18.00
Monday 11 February 2019, 09.30 - 18.00
Tuesday 12 February 2019, 09.30 - 16.00