27 Jun 2019
Pure Presents... Fay Bijoux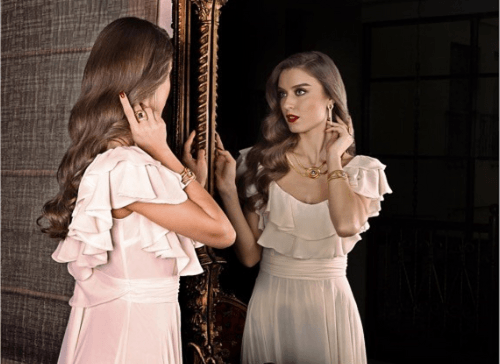 In the world of fashion, it's a well-known fact that the right accessories can transform any outfit. Our jewellery provides an outlet for our own personal expression, making even the plainest outfit that much more unique. That is exactly the philosophy of jewellery brand Fay Bijoux, who had their beginnings as bespoke jewellers to London's style-conscious clientele. To find out more, I caught up with founder and chief designer Saba El Kuaishi for today's Pure Presents interview.
Tell me a bit more about Fay Bijoux - what's your brand story?
Fay Bijoux traces its roots to a start up in the UK back in 2004. Then we specialised in offering one-off, custom made jewellery pieces to a select clientele in London. We focused mainly on semi-precious stones sourced from Brazil.
After relocating to the Middle East, I started to focus more on gold and silver-plated brass metal based pieces set with Swarovski crystals. The designs became very popular for the clientele there and suited the local tastes best.
How did you start jewellery designing?
Having gained my degree in architecture from the Design and Technology Department at the University of London I started my career as an interior designer. However, from a young age I was always interested in jewellery design and starting the Fay Bijoux brand enabled me to start my career following my real passion for jewellery design.
Can you describe the typical Fay Bijoux woman?
Each individual item is designed with fashion-forward women in mind; those for whom style is a way of life rather than a passing trend.
The brand continues to focus on women who are looking for a statement jewellery piece, to whom we guarantee that each piece is designed, crafted and delivered with quality workmanship and faultless customer service from start to finish.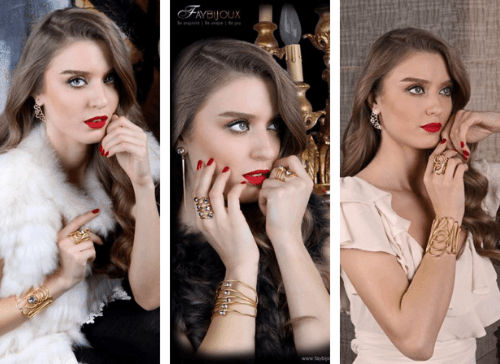 What, would you say, defines the Fay Bijoux aesthetic?
I believe that Fay Bijoux's signature statement pieces have classic but edgy appeal, with an effortlessly timeless quality making them a longstanding must-have item in any woman's jewellery box. Our distinctive collections target expressive, stylish and contemporary clients who are looking to create a memorable look that is totally unique to themselves.
Who or what inspires you?
The keen Fay Bijoux eye for innovation and detail sees us closely monitoring the latest international fashion trends, yet our individuality is reflected in the character of each and every design. The Middle East is one of the international fashion industry's most vibrant markets, and being in the middle of such a scene has definitely inspired our designs. I think the women in the region want unique pieces, extravagant and chic, mostly with much more affordable prices than the gold-based ones and it is these women who inspire us.
Why have you chosen the UK market?
The UK holds the top fashion capital of the world, London. It was recently ranked as one of the world's leading financial centres and is one of the most economically powerful cities. It has the most diverse and multi-cultural population in the world, and it's a city that's dear to our hearts as we took our first steps back in to 2004 in here.
Why are you exhibiting at Pure London this season?
We hope to introduce our latest collection to the rest of the world through Pure London and to take our first steps into more international markets. Pure London promises the chance to be at the very heart of the fashion industry and we are delighted to be sharing our pieces with the buyers in the stunning setting of Olympia London.
Discover the Fay Bijoux collection within Pure London's carefully curated Footwear and Accessories sector this SS20 season. Join us for a Festival of Fashion from 21st – 23rd July at the iconic Olympia London.
Register today APPLY FOR A STAND
---
About Pure London and Pure Origin
We are the UK's number one leading fashion trade event that brings together the entire fashion supply chain, right the way from fibre through to finished ready to wear garments.
No other UK show offers sourcing and brands together, making Pure London and Pure Origin the only events to cater to all your fashion buying needs under one central London roof.
Location & Opening times:
Olympia London
Hammersmith Road,
Kensington,
London W14 8UX
Sunday 21 July 2019, 09.30 - 18.00
Monday 22 July 2019, 09.30 - 18.00
Tuesday 23 July 2019, 09.30 - 16.00