30 May 2019
Pure Presents... Mayd in Chyna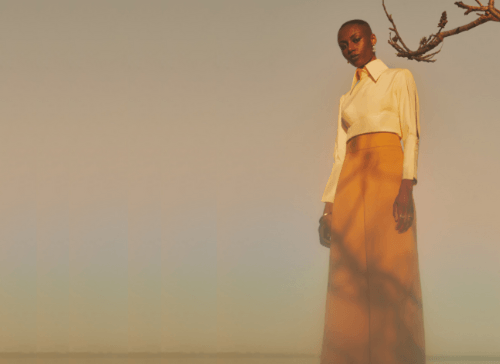 With Pure London SS20 drawing ever-nearer, the brand list is growing, and some exciting names are set to appear in the July line-up. One of these names is Mayd in Chyna, a new face in our Pure Conscious sector this season. With political, environmental and ethical sustainability at the forefront of everything they do, I couldn't miss the opportunity to catch up with the brand's creator Teresa, to hear her story and the story of Mayd in Chyna.
Tell me a bit more about Mayd in Chyna – what's your brand story?
We wanted to create change – real change – in our society. We chose fashion as a driver of this change. Our brand is differentiated from other fashion brands because our label was designed to be a catalyst for disrupting the status quo as it applies to the environment, social and economic justice, equality and animal welfare. Our collection – we only have one collection, we call each inspirational creation, a "phase" – is not just a fashion statement, it is a means to put us on the road to real and quantifiable change. First and foremost, we want to change the way companies do business and from this, to inspire a change in customer engagement and involvement, so that there is this unstoppable collective activism that will demand and not stop demanding until things get better; you could call it a fashion rebellion of sorts. Through our phases, we want to mobilize our customers to apply pressure and demand that all businesses align their mandates to genuinely serve not only their business interests but the interests of people, planet and animals.
Why is political and environmental sustainability so important to you?
Firstly, I think I would like to explain that we like to think of sustainability as much more than the common concept of using only enough so as not to deplete; we like to think of our life and the work we are doing as being "regenerative" meaning that we leave what we use in a better condition than how we found it; so we want to do better and do more than maintain.
Political sustainability to us means a grassroots political model that has the citizen at the core of its focus. This is extremely important to us because it is people that are society, not corporations or businesses, and it is these people that must be engaged in the way their world is being run. If it is a people-run society vs a corporate-run society then the values and beliefs that are important to people are upheld rather than a sole focus on the economic bottom line. This in turns brings health, happiness and a more equal distribution of wealth.
To me, environmental sustainability is probably THE most important issue of our time and the issue from which all other issues emerge. Once there is a stable, healthy and resilient environment then this translates into productive land, good health, sound economic growth, healthy and robust food systems, animal health and welfare and better economic opportunities for all. These are all a direct consequence of healthy ecosystems and environment. It's our environment that provides us with the land we use, the air we breathe, the water we drink, the food we eat, the resources we need for industry and personal use. Once our environment is given the attention, care and focus that it should be given, then all within it will function at their highest capacity.
What, would you say, defines the Mayd in China aesthetic?
Very strong, so it stands up – figuratively and literally – to anything. Our pieces are minimalist and clean so can be worn with anything, anywhere and anytime. Along these lines, we also don't follow trends or seasons, so that each Mayd in Chyna piece will always have a place in your closet and can be cherished for years to come.
Who or what inspires you?
I believe the greatest inspiration and force in my life was my mother. Designing has been part of my life ever since I was able to take whatever I could get my hands on and make some sort of creation with it. I didn't always design garments, it was more about working with any sort of material or object that could be transformed into something magical.
Going back to my mother, I believe this desire to create has its roots in the way I saw her interact with life. She was the epitome of conservationism and creativity in all that she did, from her housework, to her cooking, to her apparel construction. Indeed, she was a talented seamstress with an impeccable eye for quality and design. She spun her own cloth while living in Italy into premium and natural textiles. Then in Canada, she sought only textiles that were spun and milled in Canada.
My mom not only did the sewing in the household, she also designed all of our clothing; mine, my dad's and our extended family's. She made sure that they were not just perfectly constructed and of high quality, but when taken care of, they lasted forever (well, nearly). I still have some of her heirloom pieces that are in great shape and I wear to this day. From her, I learned the basic skills of sewing and styling as well as how to respect and create a piece of apparel art so that you wear it and it does not wear you. As I grew older, I became a connoisseur of well made, long lasting and unique designs that transcended seasons and time.
To this day, I only make purchases that speak to these criteria. Additionally, since I love to create and design and was witness to the magic of apparel-making since I was a very small child, I thought, why not incorporate the values and lessons that went along with this experience into starting a fashion business whose core purpose is to do good, why not design textiles and apparel that keep my mother's spirit alive. It was a natural transition and fit for me.
Why have you chosen the UK market?
In a societal sense, the UK is among the world's most progressive and socially conscious nations. It has been the hub of many environmental and political movements which we as a brand fiercely identify with. Its stance on making positive change through fashion has been modelled and indentified with throughout the world with the Fashion Revolution being at the forefront of this rebellion. Additionally, London has its place among the most sought-after fashion capitals of the world along with Milan, Paris and New York and it has demonstrated time and time again that it has rightfully earned this reputation.
Why are you exhibiting at Pure London this season?
Pure London is one of the largest fashion exhibitions in the world, so this is the perfect opportunity for us to connect with a very vast and diverse audience and bring them into our conversation of initiating change. In addition, we exclusively exhibit at trade shows that not only prioritizes high fashion but also fashion with a conscience. Since Pure Conscious has been given its rightful place in the Pure London event, we welcome showcasing our sustainable and ethical fashion alongside other change-making brands at a show that values sustainable and ethical criteria.
Meet Teresa, discover the Mayd in Chyna collection and celebrate the UK's Festival of Fashion this July at Pure London. Join us from 21st – 23rd July at Olympia London for inspiring brands, exciting catwalks, educational seminars and more.
---
About Pure London and Pure Origin
We are the UK's number one leading fashion trade event that brings together the entire fashion supply chain, right the way from fibre through to finished ready to wear garments.
No other UK show offers sourcing and brands together, making Pure London and Pure Origin the only events to cater to all your fashion buying needs under one central London roof.
Location & Opening times:
Olympia London
Hammersmith Road,
Kensington,
London W14 8UX