25 Jun 2019
Pure Presents… Sideral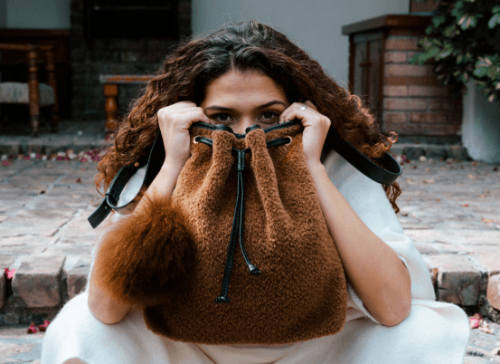 When we think of the countries most associated with fashion and style, Peru isn't the first place to spring to mind. Peruvian brand Sideral are making waves in the accessories market, with their sustainably sourced, ethically produced line of bags. Using the traditional materials and techniques of the Peruvian people, Sideral is something completely new and exciting for the UK market. I sat down with Carla Testino, creator of the revolutionary brand to hear her story.
Tell me a bit more about Sideral - what's your brand story?
Sideral was born from the union of two passions: quality design and the empowerment of women. We wanted to create a brand of beautiful high-quality women's accessories, but most of all we wanted a brand with a purpose, a conscious brand.
As a conscious brand we are aware of the reality of our country, Peru, and we want to make an impact on our society through our actions. We consider the Peruvian women a very important factor on today's society. For that reason, we took the challenge of helping women whilst also creating something that we are passionate about.
In Peru, ancient weaving techniques are a key part of our culture and heritage, so we were inspired in large part by our country. With the launch of the brand, we wanted to reinstate the value of our traditional techniques and materials, like alpaca wool, cotton and waist loom weaving.
Why did you choose to work with women and artisans in Peru?
The world is facing a transition period where women have the opportunity to demonstrate all their potential as well as their vulnerability.
As a brand led by women, we are naturally committed to female empowerment and are especially passionate about helping those with lesser opportunities or who are deprived of their freedom, such as the inmates in Santa Monica prison in Lima. We wanted to give these women second chances in life and contribute to their return to society.
We also work in collaboration with Shipibo-Conibo women from the Peruvian Amazon and artisans from Calca in Cusco. We believe that through training and fair job opportunities we can motivate, inspire, raise self-esteem and consequently promote a better quality of life for Peruvian women in order to help build a society with equal opportunities for everyone. At the same time, women and artisans working with us contribute to enriching our designs and provide a wide range of materials and techniques that inspire our collections.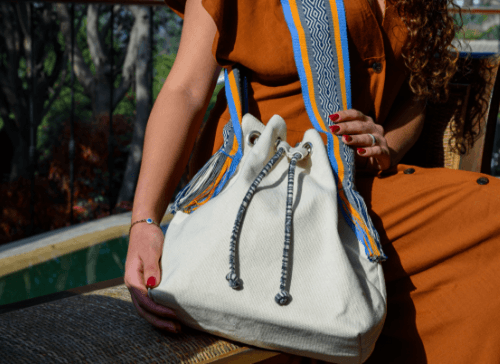 Why is ethical sustainability so important to you?
First of all, we promote collaborative work throughout all our stakeholders; these stakeholders are everyone from our artisans to our final consumer. We are all working together to create a virtuous and ethical circle, which generates value and equal opportunities for everybody involved.
We believe that if we, as a purpose-driven company, become more conscious as to what to consume, how products are manufactured and to whom we will create value, we will influence all of the people involved in the production cycle as well as raising awareness of the importance of consciousness and sustainability. Our aim is to grow this ethical circle, increasing its influence and extending it throughout our society.
Sustainability is one of the main principles of our business, and the positive impact we have on both the environment and the people we work with and for is of paramount importance. That is why try to create a production cycle which encompasses social, intellectual, emotional, spiritual, cultural, ecological and well-being aspects.
In short, our business model and philosophy is built on sustainable and future-proof principles.
What, would you say, defines the Sideral aesthetic?
Sideral has been created for the women of now. An empowered woman, a woman with a voice, with rights and obligations, with several roles in life. A sensible woman who is conscious about her environment and the world around her. In that sense, our bags are inspired by the natural beauty of women, their femininity as well as their strengths and also by the demands of modern life. We want to create pure, soft, feminine, light, comfortable items with a touch of our culture and unique designs inspired by our ancient heritage.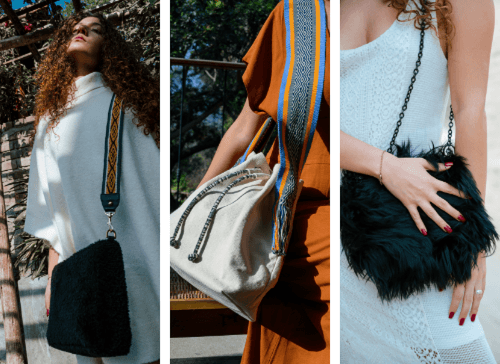 Who or what inspires you?
I am inspired by my country and by its legendary cultural treasures. Peru has so much to offer in terms of inspiration, from history, the Amazonians' "Kene art" designs, the nature of our coast, the beaches, the colours of our mountains and highlands and the traditions and customs of our beloved land.
Why are you exhibiting at Pure London this season?
I consider London the capital of design and new trends in terms of contemporary art and technology, so it's very exciting to be exhibiting in such a vibrant city. Moreover, we are very enthusiastic to participate in a trade show that offers a separate area for conscious brands. The fact that United Nations supports this kind of event provides a significant influence for emerging brands like us and it's a very exciting platform to create brand awareness and make contact with potential clients and other participating sustainable brands.
We are sure Pure London will provide us with a rich learning experience, that we will incorporate to our business model.
Why have you chosen the UK market?
Our top of the line collection uses the alpaca fibre, which is one of the finest fibres in the world. I consider the UK market as a big market where these kinds of products are valued. The UK is also an important gateway market to Europe and the rest of the world.
We believe that the UK market will appreciate our philosophy as awareness of consuming consciously is grows in the UK and many other parts of the world.
Discover the Sideral collection amongst our exciting line-up in the Pure Conscious sector and celebrate the UK's Festival of Fashion this July at Pure London. Join us from 21st – 23rd July at Olympia London for inspiring brands, exciting catwalks, educational seminars and more.
---
About Pure London and Pure Origin
We are the UK's number one leading fashion trade event that brings together the entire fashion supply chain, right the way from fibre through to finished ready to wear garments.
No other UK show offers sourcing and brands together, making Pure London and Pure Origin the only events to cater to all your fashion buying needs under one central London roof.
Location & Opening times:
Olympia London
Hammersmith Road,
Kensington,
London W14 8UX
Sunday 21 July 2019, 09.30 - 18.00
Monday 22 July 2019, 09.30 - 18.00
Tuesday 23 July 2019, 09.30 - 16.00