03 Jul 2019
Pure Presents... Valentina Poltronieri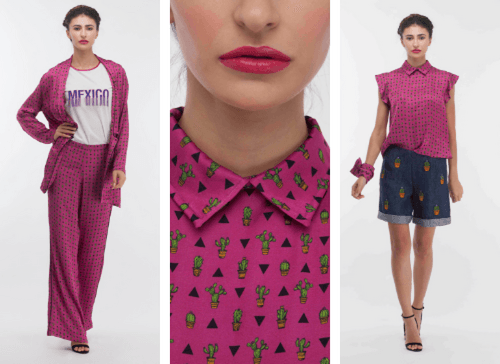 Valentina Poltronieri's eponymous fashion label may only be two years old, but the young brand is already making a splash in the industry. Designer and founder Valentina tells me more about her Milan Fashion Week featured collections, what inspires her and why she's excited to join the line up at Pure London this season.
Tell me a bit more about the Valentina Poltronieri label - what's your brand story?
It all started two years ago: February 24th, 2017. After graduating with a degree in Women's Tailoring from the Secoli Institute at Milan School of Fashion, I had the chance to present my own collection at Milan Fashion Week 2017. It was a unique and incredible opportunity which really started my venture in the fashion business.
As a label, Valentina Poltronieri is young, energetic and funny. Made in Italy, high quality and craftsmanship are the key words to describe the brand and each and every collection.
As you may have guessed, I am the founder and the creative director of the label! I am really involved with every process and follow each step with extreme care and attention. I want to be 100% sure about the quality of everything with the Valentina Poltronieri label in order to give to my clients the best clothes they are looking for.
What, would you say, defines the Valentina Poltronieri aesthetic?
My aesthetic is unique to me, so it's difficult to describe! I think to sum up the Valentina Poltronieri aesthetic I would say, it's minimalism merged with dynamism and colourful style.
I think that each of my pieces really carries the Valentina Poltronieri stamp, which is defined by my own sense of creativity as well as design elements that I take from my travels and from the environment around me.
The patterns I use are so important to me, and I give each one my full attention. I want each print or pattern to communicate the uniqueness of Valentina Poltronieri and the personality of whoever is wearing the piece.
Maybe because I am creative, I love experimenting every day with something new and eclectic. My goal is to bring colour to everyone's lives with unique and chromatic patterns!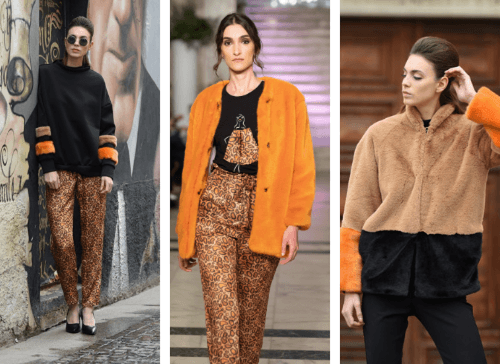 Who or what inspires you?
Travel is probably the thing that inspires me the most. I like to consider myself a "travel designer" because each collection represents a journey or an experience I've had or something I'm going to face in that particular time in my life.
For me, design is such a good way to express emotions and sensations about my experience and to bring my audience into that. I want to make my audience a part of my travel; I want to take them on a journey with me, letting them share in my feelings and thoughts, as well as letting them express themselves through wearing that piece.
Another important source of inspiration is geometry. I use shapes, in particular triangles, in my stamps and clothes and these make up so many of my patterns.
In short, I want to offer something a little different through my designs, giving people the opportunity to mix and match and have fun with their fashion.
Why are you exhibiting at Pure London this season?
This season I'm exhibiting at Pure London because I think it's a great opportunity for me to establish new relations and to strengthen the old ones as well.
I am really looking to increase my brand awareness demonstrating the constant care, innovation and energy that underpins the brand and where we're going.
To me, Pure London is a great place to discover emerging talent, meet new people and take in the beauty of imagination and creativity all collected in one space.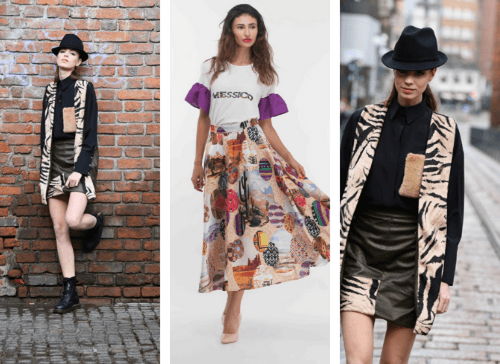 Why do you think London is such an important city for fashion?
I think London is a great city for emerging and young talents. It helps them to get their collection seen to a much wider audience than any other city.
London is a multicultural city where a lot of different backgrounds, traditions and habits are mixing perfectly together. It is a continuous source of inspiration.
Uniqueness, innovation and cleverness are the best words to describe the beauty and the originality of a city like London. It's the world capital of street style in which the most important and remarkable trends are born.
Discover the Valentina Poltronieri collection within Pure London's carefully curated Premium sector this SS20 season. Join us for a Festival of Fashion from 21st – 23rd July at the iconic Olympia London.
REGISTER TODAY APPLY FOR A STAND
---
About Pure London and Pure Origin
We are the UK's number one leading fashion trade event that brings together the entire fashion supply chain, right the way from fibre through to finished ready to wear garments.
No other UK show offers sourcing and brands together, making Pure London and Pure Origin the only event to cater to all your fashion buying needs under one central London roof.
Location & Opening times:
Olympia London,
Hammersmith Road,
Kensington,
London W14 8UX
Sunday 21 July 2019, 09.30 - 18.00
Monday 22 July 2019, 09.30 - 18.00
Tuesday 23 July 2019, 09.30 - 16.00