02 Jul 2019
Pure Presents… VINNIA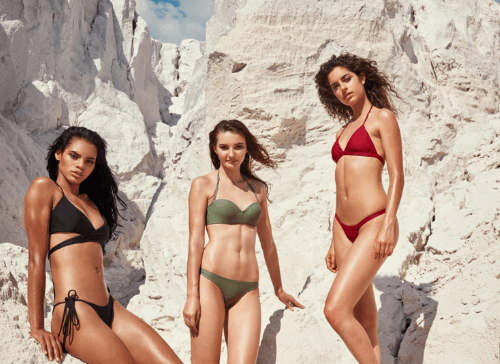 As Pure Conscious continues to grow, it's time to get excited about some of the sustainable brands who'll be joining us this season. One of our brand new labels is Ukranian swimwear company, VINNIA, founded by Anastasiia Sutula. Of course, I couldn't pass up the opportunity to get the lowdown from Anastasiia about her exciting new brand.
Tell me a bit more about VINNIA – what's your brand story?
I come from Ukraine, from a city called Vinnitsa; this is how the brand's name VINNIA was created. I always knew I wanted to have my own fashion brand, it was just a matter of time. The breaking point was when I got tired of not being able to find pieces that I liked in the shops, but most importantly, that would fit me – I found this issue, mainly with swimwear. I felt very limited and I was sure there was more women like me out there. For example, I would like a bikini but then the top would never fit me because of my small chest. I would be so anxious and ashamed of wearing a top that would not make me look good and that's why I decided to release a swimwear line. I personally tried each design, and, of course, I love every piece!
We offer normal and push up removable pads which I have not seen being offered in the swimwear market, although I don't know why! With the environment in mind, we pay close attention to materials we work with not only for the garment production but also packaging. Our goal is to deliver products of the finest quality and at the same time contribute to the Earth's wellbeing. Swimwear is just a beginning, activewear and knitwear are coming soon to the VINNIA line-up!
Why is sustainability so important to you?
Fashion is a big polluter of our air, water and soil and as a nature and animal lover, it breaks my heart to see the damage caused by all the waste our industry creates. I believe that, collectively, we can make a change and a have a positive impact on the environment.
The more we learn about sustainability the more I want to be a part of it and encourage others to participate.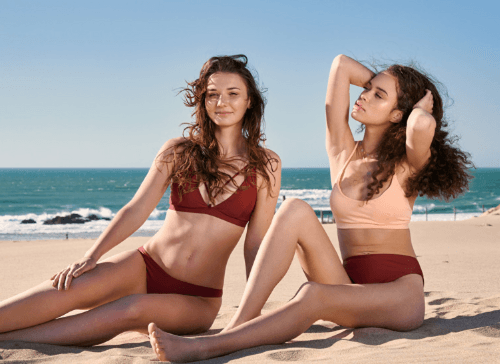 Sustainable swimwear must require some specialist fabrics, can you tell us more about the materials you use?
We use ECONYL®, a regenerated nylon made entirely of abandoned fishing nets and other nylon waste. Fishing nets and floating litter in the oceans put marine life in danger in so many ways. The abandoned fishing nets are nearly invisible and can entangle and trap animals with no chance of escape whilst other waste is consumed by sea life and is often fatal. There is enough material in the ocean to not just make swimsuits, but other clothing and lifestyle items as well, which is why you can expect more from VINNIA very soon.
What, would you say, defines the VINNIA aesthetic?
Sustainability. We pride ourselves in the fact that we took a bold step towards ethical fashion. We have proved that you can still be trendy and glamorous without hurting the environment.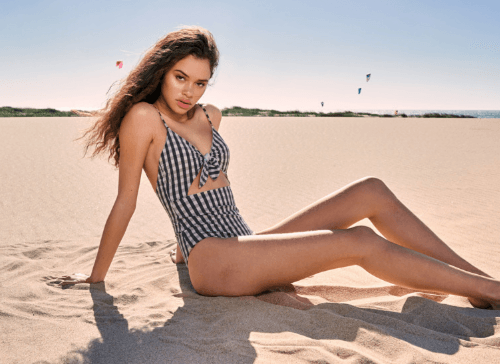 Who or what inspires you?
My parents who are living proof that anything is possible if you believe in yourself and your power.
Why have you chosen the UK market?
We believe that the UK market will help us increase brand awareness and hopefully sales. We are looking to create partnerships with likeminded brands, buyers and organisations, and these will be beneficial for both the people and the environment by enabling us to offer more products and at the same time recycle more materials for production.
Why are you exhibiting at Pure London this season?
Pure London is an incredible opportunity for us as a new brand to introduce ourselves to the UK customers as well as international buyers and we hope that our story will be shared!
Discover the VINNIA collection and celebrate the UK's Festival of Fashion this July at Pure London. Join us from 21st – 23rd July at Olympia London for inspiring brands, exciting catwalks, educational seminars and more.
---
About Pure London and Pure Origin
We are the UK's number one leading fashion trade event that brings together the entire fashion supply chain, right the way from fibre through to finished ready to wear garments.
No other UK show offers sourcing and brands together, making Pure London and Pure Origin the only events to cater to all your fashion buying needs under one central London roof.
Location & Opening times:
Olympia London
Hammersmith Road,
Kensington,
London W14 8UX
Sunday 21 July 2019, 09.30 - 18.00
Monday 22 July 2019, 09.30 - 18.00
Tuesday 23 July 2019, 09.30 - 16.00