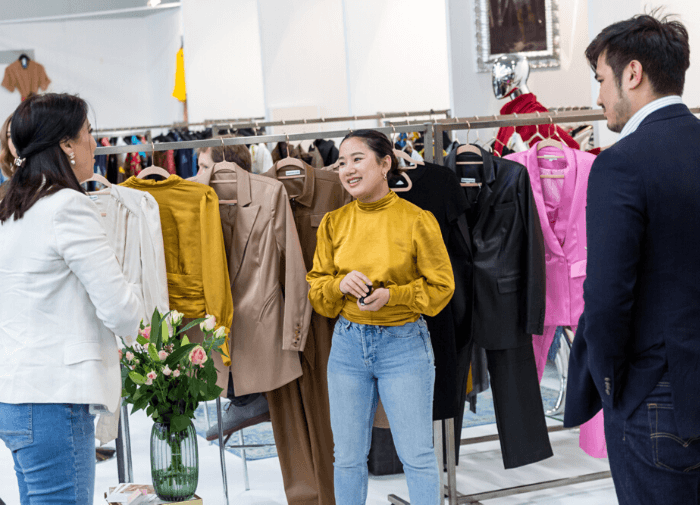 ROI, or Return on Investment, is a term that's thrown around a lot in the trade show world, as a key measure of exhibiting success. But what does it actually mean? And how can you make sure you've achieved it? I've pulled together a few top tips to clear the air once and for all.
A definition
ROI stands for Return on Investment. It is a financial metric that is often used within sales and marketing to define the monetary gain from an activity relative to the cost of said activity. It is useful in measuring the efficiency of your spend and can help to guide decisions for future investments.
How do you calculate it?
Calculating ROI is a relatively straightforward sum. Simply total your net gain from the investment (for example, the total price of all orders written) and divide that by the cost of the investment (such as the cost of your stand at Pure London). Then times this by 100 to get a final ROI percentage.
What makes a good ROI?
There's no set benchmark for what your ROI should be (as long as it's not in the negative!). When it comes to setting your ROI, you'll need to be really clear on your show goals. If your goal is to write orders, then ROI will be a key metric for you and you'll need to be realistic about how many orders you can expect to write when you come to setting your benchmark.
It's worth noting though, that ROI can come in many different forms, where trade shows are concerned; it's not always a straightforward monetary equation.
For example, if your show goal is to make new contacts, you'll need to look longer term at what value that's bringing to your business, even if it doesn't provide an immediate return on your spend.
Alternatively, you might want to consider measuring Return on Time, which considers the time you save by exhibiting at a trade show, where all of your key buyers are in one place.
ROI for first-time exhibitors
For new brands, much of the value of exhibiting at a trade show is the brand awareness and credibility you'll add to your business. Regularly appearing at the same trade show, especially a market-leading one like Pure London, is a sure-fire way to establish yourself in the minds of buyers. Whilst your first show might be more of a brand awareness exercise, after a few consecutive seasons, you'll soon find your stand becoming a go-to for your key contacts, as well as regular visitors at the show. And that's when your monetary ROI can really come into its own.
When you're considering ROI, or any other show metric to measure success, it's important to have really clear goals and targets from the outset. Make sure you know exactly why you're exhibiting at the show in order to spend your time and money most efficiently.
Join us at Pure London from 19th – 21st July at the iconic Olympia London and be part of the UK's leading fashion trade show. Apply for your stand today.
This post was created by Pure London editor Emma Wilder

---
About Pure London and Pure Origin
We are the UK's number one leading fashion trade event that brings together the entire fashion supply chain, right the way from fibre through to finished ready to wear garments.
No other UK show offers sourcing and brands together, making Pure London and Pure Origin the only event to cater to all your fashion buying needs under one central London roof.
Location & Opening times:
Olympia London,
Hammersmith Road,
Kensington,
London W14 8UX
-
Sunday 19th July 2020, 09.30 - 18.00
Monday 20th July 2020, 09.30 - 18.00
Tuesday 21st July 2020, 09.30 - 16.00