09 Apr 2019
Newsletter #6: The Pantone colour forecasting process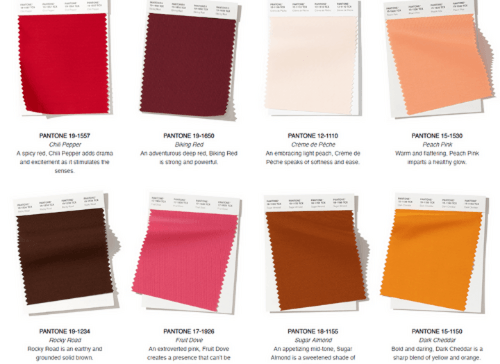 Spring is here and it's bringing colour with it! That's why it only made sense to me to bring some colour to the April newsletter.
Off the back of her appearance at Pure London last season, I've been working with Abigail Bruce, Pantone's Marketing Director, to bring you the latest insights into colour trends for this season and beyond, plus an exclusive Pure London X Pantone offer from the colour experts at the Pantone Color Institute.
In this newsletter, I'll be bringing you all the essential insights from Abigail's talk, a look at the Pantone Colour of the Year 2019 Living Coral as it's appearing in fashion right now as well as exploring what really goes into the colour forecasting process.
That's not all though. In Pure Origin news, we're delighted to welcome Wet Green to the exhibitor line up. I sat down with Thomas Lamparter to talk their new sustainable leather tanning agent, Olivenleder, which they'll be bringing to the SS20 edition.
Enjoy!
Emma Wilder
Content Editor
THE PANTONE COLOUR FORECASTING PROCESS
I'm sure we'll all agree that the role colour forecasting plays in so many parts of our industry is a vital one. But how many of us actually know what goes into colour forecasting? The colour experts at the Pantone Color Institute do! As part of her session at Pure London AW19/20, Marketing Director of Pantone, Abigail Bruce, took us through some of the influences that led to the selection of the top colours featured on the London catwalk for Spring/Summer 2019, the PANTONEVIEW SS20 colour trend forecast, as well as the process behind choosing Pantone 16-1546 Living Coral as the Pantone Colour of the Year.
Macro trends in the wider world influence the team thinking at the Pantone Color Institute when putting together the next season's colour palettes or selecting the next Pantone Colour of the Year. So what was the thought behind this year's shade?
The thinking behind Living Coral
To arrive at the selection each year, the team at the Pantone Color Institute is out there actively searching for general lifestyle colour trends and new colour influences for forecast products, and at the same time, are also on the lookout for the colour that they see as ascending, and seems to be building in importance across all areas of design; the one colour that is really pushing through and the single shade we think has the ability to communicate the colour message that best reflects what is taking place in our culture at a particular moment in time.
Areas considered include the entertainment industry and films in production, traveling art collections and new artists, fashion, all areas of design, popular travel destinations, as well as new lifestyles, playstyles and socio-economic conditions. Influences may also stem from new technologies, materials, textures and effects that impact colour, relevant social media platforms and even up-coming sporting events that capture worldwide attention.
The emotional aspect of colour is such a large aspect of the Pantone Colour Institute decision making as they want to ensure that the colour they select are reflective of the collective mindset. With colour and context so intertwined there really are reasons why a colour family or individual colour comes into prominence when it does, and for the most part the popularity of a colour is symbolic of the age we are living in.
All of this made Living Coral a natural choice for the 2019 Colour of the Year. A life affirming coral hue that energizes and enlivens with a softer edge Pantone Living Coral is inspired, in short, by the collision between the natural and the digital worlds. On the one hand, Living Coral is intrinsically a colour from nature. From its origins under the sea, coral inspires and energises us.
Lying at the centre of our naturally vivid and chromatic ecosystem, PANTONE 16-1546 Living Coral is evocative of how coral reefs provide shelter to a diverse kaleidoscope of nature's colour. Just as coral reefs are a source of sustenance and shelter to sea life, vibrant yet mellow PANTONE 16-1546 Living Coral embraces us with warmth and nourishment to provide comfort and buoyancy in our continually shifting environment.
But whilst this is a colour from the seas, it is also an appealing colour for our digital age. Pantone Living Coral is a colour that represents the fusion of modern life; a nurturing colour that appears in our natural surroundings and at the same time, because of its cheerful brightness, displays a lively presence within social media.
The humanising and heartening qualities displayed by Pantone Living Coral hit a responsive chord. In our quest for comfort and reassurance amidst continued unrest, uncertainty and instability around the world, we are reaching out to gather up all the warmth around us; seeking out materials with texture and welcoming, humanizing shades.
It is each of these influences that led to Pantone Living Coral gaining the top spot for 2019. It is a colour designed to act as a symbolic snapshot of what is taking place in our culture at this moment in time.
Discover the latest colour trends and more at Pure London SS20, 21st – 23rd July.
Don't forget to use your exclusive Pantone promotion code. Go to the Pantone UK e-store to redeem 10% off on a range of Pantone products. Simply enter code PURELONDON19 at the checkout to benefit from this offer*.
*Readers are entitled to a 10% Discount on the Pantone UK site. Offer valid from 4th-25th April 2019. There is no minimum spend, but this offer cannot be used with any other offer. Free shipping is available for all orders over £99. Trend forecasting books are excluded from the offer.
Continue reading Newsletter #6
About Pure London and Pure Origin
We are the
UK's number one leading fashion trade event
that brings together the entire fashion supply chain, right the way from fibre through to finished ready to wear garments.
No other UK show offers sourcing and brands together, making Pure London and Pure Origin the only event to cater to all your fashion buying needs under one central London roof.
Location & Opening times:
Olympia London,
Hammersmith Road,
Kensington,
London W14 8UX
Sunday 10 February 2019, 09.30 - 18.00
Monday 11 February 2019, 09.30 - 18.00
Tuesday 12 February 2019, 09.30 - 16.00