17 Dec 2019
Pure London announce Dame Zandra Rhodes as keynote speaker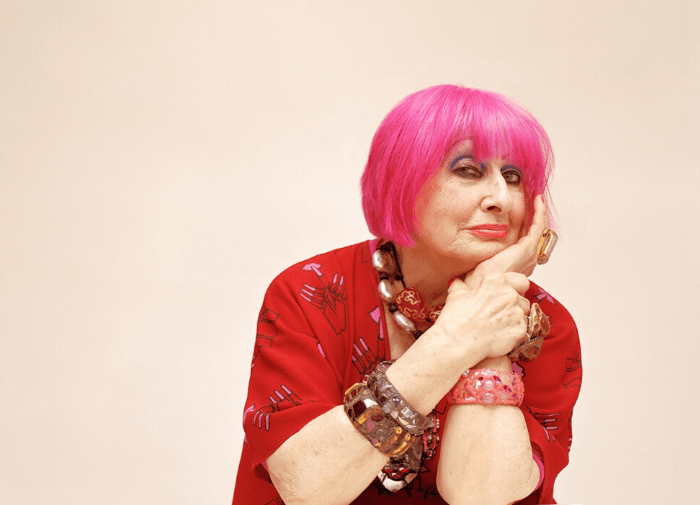 Festival of Fashion, Pure London is delighted to announce British designer Dame Zandra Rhodes to the AW20/21 show for a keynote address on day one. Zandra will take to the newly created Nomad stage in the National Hall of Olympia London to discuss '50 Years of Fabulous' at 3.30pm on Sunday 9th February 2020.
As one of the most enduring and iconic designers of our generation, this year Zandra celebrates her own Jubilee in the fashion industry. Visitors will hear her speak about the ups and downs of continuing to thrive in the fashion world, offering fascinating insights and no doubt a few interesting stories over the years. Over the past 50 years, Zandra has dressed figureheads of the fashion industry in her signature creations, which combine vibrant patterns and finishes with superior-quality fabrics. Her seasonal collections are a fine display of her textile expertise and experience, captured in the colourful and timeless dresses printed and beaded by hand at her London atelier.
Zandra marked her 50 years in fashion in September 2019 with a retrospective exhibition at the Fashion and Textile Museum, a book published by Yale and a collection for SS20 entitled 'The Jubilee Collection.' The fashion icon shows no signs of slowing down - announcing future collaborations with the likes of IKEA and working on her AW20 collection to be shown in February 2020 at LFW.
The new Nomad Stage offers a dedicated platform for industry leaders, changemakers and personalities to discuss the most pertinent and significant global topics in the industry, share their stories, and offer practical business advice. Offering over 1,300 of the latest collections across the entire industry, visitors to Pure London and Pure Origin from the 9th – 11th February 2020 can explore the full fashion supply chain under one roof – creating the only fashion trade show in the UK offering this unique experience.
---
About Pure London and Pure Origin
We are the UK's number one leading fashion trade event that brings together the entire fashion supply chain, right the way from fibre through to finished ready to wear garments.
No other UK show offers sourcing and brands together, making Pure London and Pure Origin the only event to cater to all your fashion buying needs under one central London roof.
Location & Opening times:
Olympia London,
Hammersmith Road,
Kensington,
London W14 8UX
-
Sunday 9th February 2020, 09.30 - 18.00
Monday 10th February 2020, 09.30 - 18.00
Tuesday 11th February 2020, 09.30 - 16.00