26 Jun 2019
Pure Presents... Imani Kids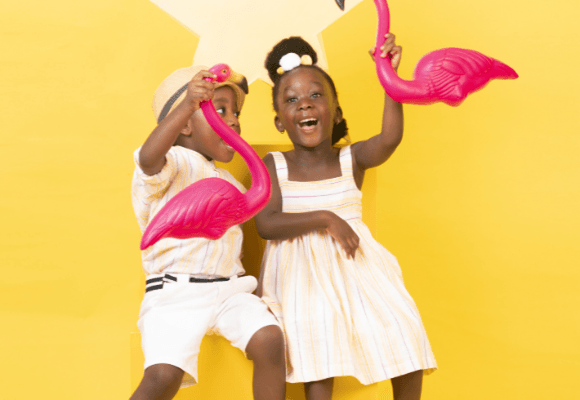 Joining the Bubble at Pure line up all the way from Nigeria, it's a pleasure to introduce Imani Kids. Inspired by her own daughter, founder Jumoke Alaka injects her designs with a sense of fun and vibrancy, perfectly matching the energy of kids! I spoke with Jumoke to find out more about what we can expect from Imani Kids at Pure London SS20.
Tell me a bit more about Imani Kids - what's your brand story?
Imani Kids was born when my creative interest and my love for dressing up my daughter Imani began to intertwine. As a mother to a one-year-old, I would dress my daughter up in vibrant colours, fun prints and cute designs.
Seeing this, my friends, who are mothers as well, started asking me for styling tips and advice about kids' fashion; some even got me to style their kids for parties and birthday photo shoots and they loved it!
Doing all of that, as well as applying the experience I got from working in a baby bedding manufacturing company in Manchester, got me really eager to learn more about the exciting world of kids' fashion. This led to the official launch of Imani Kids back in 2017.
What's the most exciting trend in kidswear right now?
There are a lot of exciting trends in kidswear right now, seeing as kids get excited by a lot of things! I believe in letting kids be kids which is why fun graphic prints is a trend that is so popular and so appropriate for children's clothing; it adds an edgy element to any outfit for boys and girls.
Another trend that stands out to me this season is pastel colour palette floral prints with ruffle details. I totally love them!
Can you tell me what you mean when you say each of your pieces tells a story?
Every piece tells a story right from designing to fabric sourcing to garment production. During this process, I do everything with my mind open to possible ideas and inspirations. With my imagination and creativity, I tell a story with the designs with every hope that it will excite whichever child wears it and take them with me to this world of beautiful dreams and imagination.
To the child wearing it, I try to stir up their imagination to read the story I'm trying to tell with my design. It could be a story about having a fun time with friends, as seen in our 'Emoji Ruffled Dress', a story about the caterpillar who became a butterfly, as seen in 'Hungry Caterpillar Dress' or a story about the little girl who went flying in a beautiful hot air balloon as seen in "Fly with me 3D dress'. For the boys, it could be a story about dinosaurs as seen in the 'Dinosaur Boys' Shirt' and the 'FaraDino Romper'.
Kids learn every day, and it's my goal to make sure every child has a learning experience from every dress or garment I design. I see the excitements in their faces as they try to read the stories, come up with their own stories and identify objects on the outfit.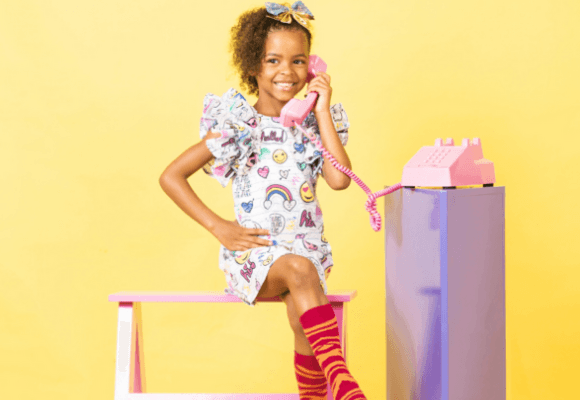 What, would you say, defines the Imani Kids aesthetic?
I am very particular about what goes into each collection because I want every piece to be fun, vibrant, playful and edgy. I want kids to feel excited and yet comfortable when they wear any item from Imani Kids. Every Imani piece has a little bit of edge and quirk to it that sets it apart; this and also the top-notch quality of our pieces, which cannot be overlooked.
As a designer, I work towards making my designs as beautiful as they are functional for the young ones I'm catering to and this has kept us relevant in the industry.
Who or what inspires you?
Most of my design inspiration comes from my three-year-old daughter, Imani as she grows and learns; these processes inspire me a lot. With every act Imani does, be it attempting to read from a book or trying to tell a story, her imagination is always a source of inspiration to me. I also draw inspiration from all the other kids around me, especially when I'm designing for older kids or boys, and I pay attention to what they are into at that moment. I see little boys love dinosaurs, sailing boats and cars, so I try to tell stories with a dinosaur romper or shorts with a sailing boat print for boys. The little girls I know love shimmers, tea parties, rainbows, unicorns, happy emojis and colourful umbrellas. I use that as a base for my design and create something fun and quirky with them.
Kids need to feel and be their best selves, and the clothes they wear can have a huge impact on their confidence level. This is why I need to think like them and put myself in their shoes when designing and of course, draw inspiration from them.
Why have you chosen the UK market?
I studied in the United Kingdom and also lived there for five years. I still visit there regularly during the holidays. My time in the UK has made me acquainted with the fashion and lifestyle. The British tradition and cutting-edge fashion is constantly evolving with a great reputation for innovation and creativity. During my design process, I take into consideration global opportunities and ensure all of my designs are as diverse as possible and cut across all lifestyles. Because of these reasons, when the thought of making Imani Kids an international brand came up, the UK was number one on my list.
Why are you exhibiting at Pure London this season?
Pure London is no doubt the biggest trade show in the UK, and the only one that has the entire fashion supply chain under one roof. The fact that I can showcase my brand to new businesses and also network and do business with other industry partners puts the icing on the cake.
I attended the Pure London two years ago, a few months after Imani Kids officially launched. I was in love with how well organized it was, I made it a goal to exhibit my brand there one day. Now, I'm planning on taking Imani Kids global and I think Pure London is the perfect place to do that. And we are all excited about coming from Lagos, Nigeria for the show!
Discover the Imani Kids collection, along with many other exciting kidswear brands in the Bubble at Pure line-up and celebrate the UK's Festival of Fashion this July at Pure London. Join us from 21st – 23rd July at Olympia London for inspiring brands, exciting catwalks, educational seminars and more.
---
About Pure London and Pure Origin
We are the UK's number one leading fashion trade event that brings together the entire fashion supply chain, right the way from fibre through to finished ready to wear garments.
No other UK show offers sourcing and brands together, making Pure London and Pure Origin the only events to cater to all your fashion buying needs under one central London roof.
Location & Opening times:
Olympia London
Hammersmith Road,
Kensington,
London W14 8UX
Sunday 21 July 2019, 09.30 - 18.00
Monday 22 July 2019, 09.30 - 18.00
Tuesday 23 July 2019, 09.30 - 16.00