09 Apr 2019
Revolutionising leather tanning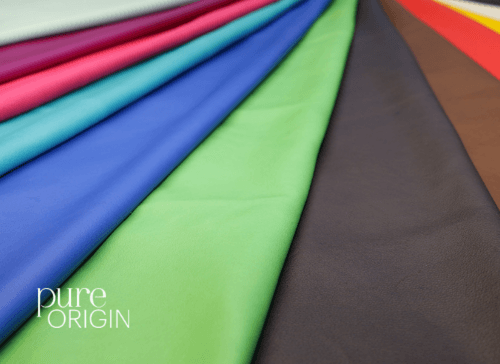 Spring is here and it's bringing colour with it! That's why it only made sense to me to bring some colour to the April newsletter.
Off the back of her appearance at Pure London last season, I've been working with Abigail Bruce, Pantone's Marketing Director, to bring you the latest insights into colour trends for this season and beyond, plus an exclusive Pure London X Pantone offer from the colour experts themselves.
In this newsletter, I'll be bringing you all the essential insights from Abigail's talk, a look at the Pantone Colour of the Year as it's appearing in fashion right now as well as exploring what really goes into the colour forecasting process.
That's not all though. In Pure Origin news, we're delighted to welcome Wet Green to the exhibitor line up. I sat down with Thomas Lamparter to talk their new sustainable leather tanning agent, Olivenleder, which they'll be bringing to the SS20 edition.
Enjoy!
Emma Wilder
Content Editor
MEET THE SUSTAINABLE TANNING AGENT, OLIVENLEDER®
As Pure Origin draws ever closer, we're excited to see some of the industry's most exciting and innovative suppliers and manufacturers join the exhibitor line-up. As a case in point, I sat down with Thomas Lamparter, from German sustainable leather solutions expert wet-green to find out more about their brand-new leather tanning agent, Olivenleder®.
Tell me a bit more about wet-green – how did the company start and what is important to the company?
wet-green was founded in 2012, with a view to reducing the damage the traditional leather production process can do to humankind and the environment. The leather tanning process is a complex one, and for us, the bare minimum in sustainability was just not enough!
We've gone from being a niche product, used only in a few cars at BMW and a selection of upholstery and accessories, to being involved with many other automotive companies. We have introduced Olivenleder® into the design process for a number of models, as well as expanding our business from the motor, upholstery and saddling industries to footwear as well. A collaboration with a major German fashion label is our first entry into the fashion industry and a range of accessories, garments and shoes made of Olivenleder® will be introduced before the end of the year.
We believe that true luxury unfolds when superior craftsmanship meets a commitment to responsibility. The wet-green patented procedure has the potential to lead the global leather production industry to a responsible future that is sustainable and healthy – for us and for our environment. This is the future that we aim for.
What exactly is Olivenleder®?
To put it simply: a tanning agent made from olive leaves. We describe our process as "tanning a by-product with another by-product". We tan skin as a by-product from the meat and dairy industry, using olive leaves which are a by-product of olive growing. In contrast to conventional tanning agents, there's no mining for chrome, no crude oil used and no tree is felled or sacrificed. The olive leaves are purely a by-product of another industry.
Sustainability seems to be a key to your products, and Olivenleder® in particular. Why is that?
Leather is such a lovely material, with so many unique characteristics. If we want to ensure that future generations recognise leather as a sustainable and ethical material, we need to provide the solutions to prove this. As I've said, leather is a by-product of the meat industry; as long as people eat meat, we can use the skin as a long-lasting and natural fabric rather than creating artificial materials which ultimately pollute our environment. Skin is a naturally biodegradable product and as long as it's treated in a way that maintains its integrity it will retain this property. That's why we use olive leaves.
Can you tell me a bit more about your term "luxtainability"? What does that mean?
Whilst it is an important issue, there are many who are tired of the expression "sustainability". In our opinion, it's a word that's seriously overused. For many, sustainability is also a luxury simply because it's more expensive (even if not by that much). We want to make sustainable leather accessible to everyone using Olivenleder®.
Our inclination for luxury goods comes from both taste and an appreciation of true quality. When superior craftsmanship meets ethical responsibility, products get the quality stamp. Such products are not at odds with our ideals for a healthier, more equal planet, nor do they offend our sensibilities when it comes to our taste for quality. In short, luxtainability is the luxury of new quality and the luxury of a new way of thinking.
Why did you choose to exhibit at Pure Origin SS20 and what will you be bringing to the show?
We want to generate more visibility for Olivenleder® and all partners involved throughout our supply chain.
We want to bring healthy Olivenleder® to as many people as possible so this is the logical next step for us, after our first exhibitions at German fashion shows in Berlin and alongside us exhibiting in Paris this season. London is different compared to other capitals. You have a special sense for quality as can be seen by the famous bench made shoemakers and high-quality leather goods brands that are based in the UK. For people who might not be visiting the other fairs, Pure Origin will therefore be the possibility to meet us and see what possibilities there are for collaboration.
Visitors can expect to see Olivenleder in many different colours and styles for different applications. And we will be bringing some tanning agent for our legendary tanning agent tasting!
Meet Thomas and find out more about Olivenleder® at Pure Origin 21st – 23rd July.
Continue reading Newsletter #6
About Pure London and Pure Origin
We are the
UK's number one leading fashion trade event
that brings together the entire fashion supply chain, right the way from fibre through to finished ready to wear garments.
No other UK show offers sourcing and brands together, making Pure London and Pure Origin the only event to cater to all your fashion buying needs under one central London roof.
Location & Opening times:
Olympia London,
Hammersmith Road,
Kensington,
London W14 8UX
Sunday 10 February 2019, 09.30 - 18.00
Monday 11 February 2019, 09.30 - 18.00
Tuesday 12 February 2019, 09.30 - 16.00