26 Apr 2019
The rise of the athleisure trend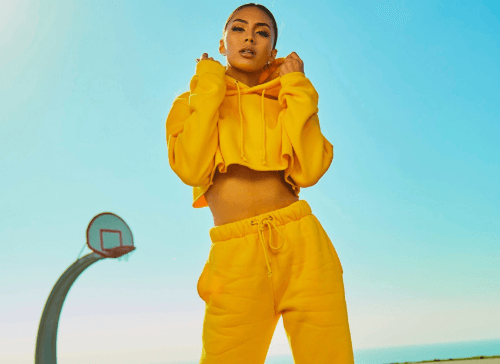 In case you missed it, the London Marathon is this weekend. What does that have to do with fashion? Everything, it turns out. As millions of professional and amateur athletes prepare to take to the streets of London clad in their activewear, I've been thinking about the place the athleisure trend holds in the high fashion collections of right now.
Athleisure lines have been cropping up in men's and women's collections in the last few years, with everyone from classic sports brands, like Nike, to high end brands, like Alexander Wang and Balenciaga, looking to get a piece of the activewear action. What's more, with the resurgence of retro trends and branded clothing in today's market, streetwear right now lends itself well to the athleisure look.
WHAT IS ATHLEISURE?
For anyone who doesn't already know, athleisure is the combination of athletic wear ("ath") and everyday clothing ("leisure"). As activewear brand GymShark put it, athleisure is "casual, comfortable clothing designed to be suitable both for exercise and everyday wear". It's a look that many of us have championed without even knowing it; if you've ever worn oversized hoodies, tailored jogging bottoms or trainers, welcome to the athleisure club.
WHY HAS ATHLEISURE BECOME SO POPULAR?
There's a couple of reasons that have contributed to the rise of athleisure: celebrities and influencers and a societal shift in focus to health and wellbeing. According to Fibre2Fashion, it's journey to popularity can be tracked from gym and field to casual coffee outings before becoming an airport essential and then a mainstream element of wardrobes everywhere.
The athleisure dream team
As I've said, celebrities and influencers have had a huge part to play in the popularity of the athleisure trend. From Nike's collaborations with major sports stars and fitness bloggers, through to Kanye West's Yeezy line, Beyoncé's Ivy Park and Puma's partnership with Rihanna's Fenty label, athleisure's definitely made its mark on the fashion world. What's more, with social media leading the way for fashion, 38% of millennial and gen Z shoppers report that they are highly influenced by what influencers wear and which brands they choose.
A change of pace
Lifestyle blog Luxe sums up the rise of the athleisure lifestyle nicely: "wellness is a fashion statement worthy of an Instagram moment". As society has changed, and social media has grown, we've literally changed pace where attitudes to health and fitness are concerned. As part of our growing focus on wellbeing, the running legging has naturally taken the place of the skinny jean, as we look for clothes that we can take straight from yoga to brunch.
When it comes to fashion, the wellbeing movement is more than just a lifestyle trend. With luxury department store dedicating valuable shop floor space to high-end athleisure and wellness lines and developments in the production of sustainable athleisure, there's significant opportunity for the industry to grow.
Less of a trend and more of a lifestyle choice, athleisure's probably not going to go anywhere soon. And, with the US activewear market set to enjoy 30% growth on its already massive $97bn net worth by next year, athleisure is a sector to watch.
Join us at Pure London SS20 to learn more about athleisure, meet the key sector buyers and discover the brands making their name in the activewear industry. The Festival of Fashion will be back at Olympia London on 21st – 23rd July.
---
About Pure London and Pure Origin
We are the
UK's number one leading fashion trade
event that brings together the entire fashion supply chain, right the way from fibre through to finished ready to wear garments.
No other UK show offers sourcing and brands together, making Pure London and Pure Origin the only event to cater to all your fashion buying needs under one central London roof.
Location & Opening times:
Olympia London,
Hammersmith Road,
Kensington,
London W14 8UX
Sunday 10 February 2019, 09.30 - 18.00
Monday 11 February 2019, 09.30 - 18.00
Tuesday 12 February 2019, 09.30 - 16.00